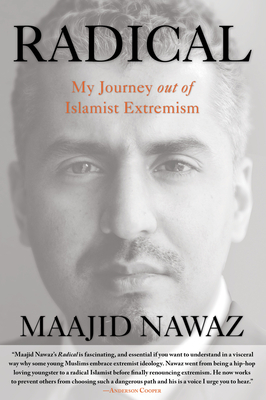 Radical
My Journey Out of Islamist Extremism
Hardcover

* Individual store prices may vary.
Other Editions of This Title:
Digital Audiobook (1/14/2016)
Description
Maajid Nawaz spent his teenage years listening to American hip-hop and learning about the radical Islamist movement spreading throughout Europe and Asia in the 1980s and 90s. At 16, he was already a ranking member in Hizb ut-Tahrir, a London-based Islamist group. He quickly rose through the ranks to become a top recruiter, a charismatic spokesman for the cause of uniting Islam's political power across the world. Nawaz was setting up satellite groups in Pakistan, Denmark, and Egypt when he was rounded up in the aftermath of 9/11 along with many other radical Muslims. He was sent to an Egyptian prison where he was, fortuitously, jailed along with the assassins of Egyptian President Anwar Sadat. The 20 years in prison had changed the assassins' views on Islam and violence; Maajid went into prison preaching to them about the Islamist cause, but the lessons ended up going the other way. He came out of prison four years later completely changed, convinced that his entire belief system had been wrong, and determined to do something about it. He met with activists and heads of state, built a network, and started a foundation, Quilliam, funded by the British government, to combat the rising Islamist tide in Europe and elsewhere, using his intimate knowledge of recruitment tactics in order to reverse extremism and persuade Muslims that the 'narrative' used to recruit them (that the West is evil and the cause of all of Muslim suffering), is false. Radical, first published in the UK, is a fascinating and important look into one man's journey out of extremism and into something else entirely.This U.S. edition contains a Preface for US readers and a new, updated epilogue.
Lyons Press, 9780762791361, 296pp.
Publication Date: October 15, 2013
About the Author
Maajid Nawaz is the co-founder of Quilliam. He holds a BA in Arabic and Law and an MSc in Political Theory. Maajid has addressed the U.S. Senate, been interviewed by 60 Minutes and the New York Times, and has written for The London Times, The Wall Street Journal, and others.
or
Not Currently Available for Direct Purchase