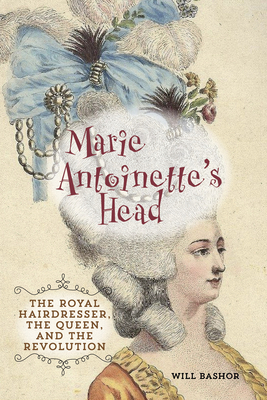 Marie Antoinette's Head
The Royal Hairdresser, the Queen, and the Revolution
Hardcover

* Individual store prices may vary.
Other Editions of This Title:
Paperback (6/1/2015)
Description
Marie Antoinette has remained atop the popular cultural landscape for centuries for the daring in style and fashion that she brought to 18th century France. For the better part of the queen's reign, one man was entrusted with the sole responsibility of ensuring that her coiffure was at its most ostentatious best. Who was this minister of fashion who wielded such tremendous influence over the queen's affairs? Winner of the Adele Mellen Prize for Distinguished Scholarship, Marie Antoinette's Head: The Royal Hairdresser, The Queen, and the Revolution charts the rise of Leonard Autie from humble origins as a country barber in the south of France to the inventor of the Pouf and premier hairdresser to Queen Marie-Antoinette. By unearthing a variety of sources from the 18th and 19th centuries, including memoirs (including L onard's own), court documents, and archived periodicals the author, French History professor and expert Will Bashor, tells Autie's mostly unknown story. Bashor chronicles Leonard's story, the role he played in the life of his most famous client, and the chaotic and history-making world in which he rose to prominence. Besides his proximity to the queen, Leonard also had a most fascinating life filled with sex (he was the only man in a female dominated court), seduction, intrigue, espionage, theft, exile, treason, and possibly, execution.
Lyons Press, 9780762791538, 299pp.
Publication Date: October 16, 2013
About the Author
Will Bashor has a B.A. degree in French and an M.A. degree in French literature from Ohio University and a Ph.D. in International Studies from the American Graduate School in Paris where he gathered letters, newspapers, journals, and plays during his research for Marie Antoinette's Head. Professor at Franklin University and a member of the Society for French Historical Studies, he attended the annual meeting at Harvard University in 2013 where he presented the political importance of Leonard Autie's role in the royal family's unsuccessful flight to Varennes. Visit him at www.willbashor.com.
or
Not Currently Available for Direct Purchase