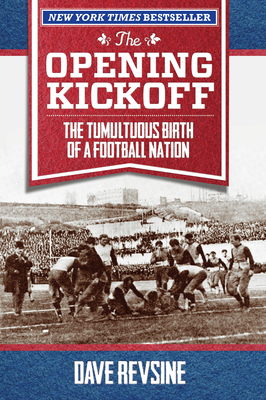 The Opening Kickoff
The Tumultuous Birth of a Football Nation
Hardcover

* Individual store prices may vary.
Other Editions of This Title:
Paperback (9/1/2015)
Description
A New York Times Bestseller and Boston Globe Bestseller It's America's most popular sport, played by thousands, watched by millions, and generating billions in revenues every year. It's also America's most controversial sport, haunted by the specter of life-threatening injuries and plagued by scandal, even among its most venerable personalities and institutions. At the college level, we often tie football's tales of corruption and greed to its current popularity and revenue potential, and we have vague notions of a halcyon time--before the new College Football Playoff, power conferences, and huge TV contracts. Perhaps we conjure images of young Ivy Leaguers playing a gentleman's game, exemplifying the collegial in collegiate. What we don't imagine is a game described in 1905 as "a social obsession--this boy-killing, man-mutilating, education-prostituting, gladiatorial sport." In The Opening Kickoff, Dave Revsine tells the riveting story of the formative period of American football between 1890 and 1915. In just a quarter century football spread across the nation, captivating people from coast to coast. It was a time that saw the game's meteoric rise, fueled by overflow crowds, breathless newspaper coverage, and newfound superstars--including one of the most thrilling and mysterious the sport has ever seen. But it was also a period racked by controversy in academics, recruiting, and physical brutality that, in combination, threatened football's very existence. A vivid storyteller, Revsine brings it all to life in this captivating narrative.
Lyons Press, 9780762791774, 320pp.
Publication Date: July 29, 2014
About the Author
Dave Revsine has been the lead studio host of the Big Ten Network since its inception in 2007. Before that, he spent more than a decade as a studio anchor at ESPN. He lives in suburban Chicago with his wife and three daughters.
or
Not Currently Available for Direct Purchase