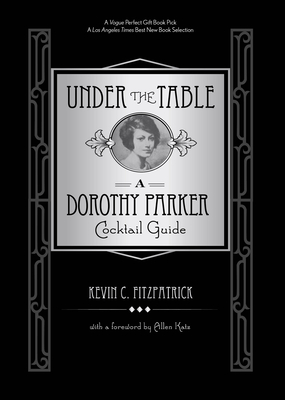 Under the Table (Hardcover)
A Dorothy Parker Cocktail Guide
Lyons Press, 9780762792689, 139pp.
Publication Date: November 5, 2013
* Individual store prices may vary.
Description
"I love a martini--But two at the most.Three, I'm under the table;Four, I'm under the host."Raise a glass to Dorothy Parker's wit and wisdom. Kevin C. Fitzpatrick, founder and president of the Dorothy Parker Society, gives us an intoxicating new look at the doyenne of the ripping riposte through the lens she most preferred: the bottom of a glass. A bar book for Parker enthusiasts and literary tipplers alike, Under the Table offers a unique take on Mrs. Parker, the Algonquin Round Table, and the Jazz Age by celebrating the cocktails that she, her bitter friends, and sweetest enemies enjoyed. Each entry of this delicious compendium offers a fascinating and lively history of a period cocktail, a complete recipe, and the characters associated with it. The book also features a special selection of twenty first-century speakeasy-style recipes from the country's top mixologists. Topping it off are excerpts from Parker's poems, stories, and other writings that will allow you to enjoy her world from the speakeasies of New York City to the watering holes of Hollywood.
About the Author
Kevin C. Fitzpatrick is founder and president of the Dorothy Parker Society, author of A Journey into Dorothy Parker's New York, and co-editor of The Lost Algonquin Round Table. A licensed New York City sightseeing guide, he gives tours of city landmarks, literary sites, cemeteries, and unusual locations. He frequently speaks at libraries, salons, and private clubs, and in his spare time he enjoys dedicating bronze plaques for dead people. Allen Katz is cofounder and vice president of the New York Distilling Company, which makes Dorothy Parker American Gin. The director of spirits education and mixology for Southern Wine & Spirits of New York, he also hosts The Cocktail Hour, a weekly program on Martha Stewart's SiriusXM channel. A past chairman of Slow Food USA, he serves on the board of directors for the New Orleans Culinary & Culture Preservation Society and the Manhattan Cocktail Classic, an annual four-day, four-borough celebration of the intersection between cocktails and culture.