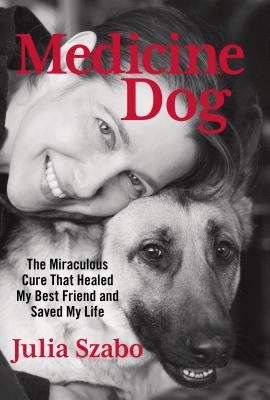 Medicine Dog: The Miraculous Cure That Healed My Best Friend and Saved My Life (Hardcover)
The Miraculous Cure That Healed My Best Friend and Saved My Life
Lyons Press, 9780762796441, 240pp.
Publication Date: March 4, 2014
Description
Julia Szabo was a nationally-recognized pet reporter when her dog Sam collapsed from osteoarthritis. Diligently researching how to restore his quality of life, she discovered Vet-Stem, a service that provides cutting-edge regeneration therapy for pets, using stem cells harvested from animals' own tissue. Just hours after receiving IV and intra-joint injections, Sam began aging backward--which left Julia wondering why this simple, effective treatment was not available for humans.Julia suffered from chronic inflammatory bowel disease, and after witnessing Sam's astonishing recovery, she set out on a curious quest: to be treated like a dog by a doctor as competent as her vet After a four-year wait, Julia became the first American to be successfully cured of a perirectal fistula with stem cells derived from her own fat. With this amazing true story of how a pack of shelter dogs she rescued from death row came to save her life, Julia hopes to inspire and inform readers about exciting healthcare options available to them and their cherished animal companions.
About the Author
Julia Szabo was the New York Post's "Pets" columnist for eleven years. She is the Health Editor for Dogster.com and writes for Cesar's Way. The author of six books, she has been published in the New York Times, The New Yorker, and The Bark. She lives in New York.
Advertisement