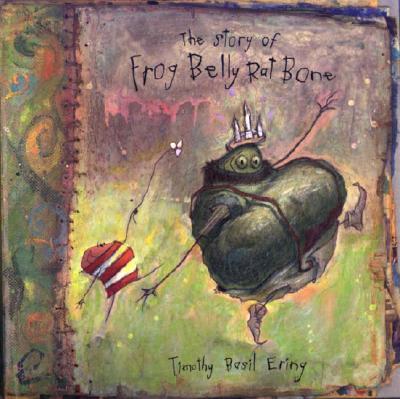 The Story of Frog Belly Rat Bone (Hardcover)
Candlewick, 9780763613822, 48pp.
Publication Date: April 1, 2003
Other Editions of This Title:
Hardcover (2/6/2013)
Paperback (1/8/2008)
* Individual store prices may vary.
Description
"FROG BELLY . . . plants the idea that with some strategy, good communication and goodwill, you can grow wonderful things." —PORTLAND PRESS HERALD

"Frog Belly Rat Bone,
one, two, three . . .
the specks in the earth
are protected by me.
You must be patient and
then you will see. . . ."

Once upon a time, in a dull, gray endless place called Cementland,
there lived a very special boy who wished to find a treasure. After much searching among piles of greasy toaster ovens and wet smelly socks, he
spies a box filled with specks and a wrinkled note that says, "Put these
wondrous riches in the earth and enjoy." Horrified to learn that thieves
are after his treasure, the boy scrounges the junkyard and conjures a creature to stand guard - a scarecrowlike gardener with crooked bony arms, a giant belly, a jaunty crown, and preternatural wisdom: Frog Belly Rat Bone, king and protector of the specks.

With subtle, delicate tones, fantastical figures, and bursts of glowing color, the surreal artwork and hand-lettered text of Tim Ering's picture book debut exude all the whimsy of an inspired imagination - and the wonders of a natural world that awaits discovery, even in Cementland.

Included with each book: a whimsical full-color bookmark offering a
behind-the-scenes glimpse at the artist, his technique - and his inspiration!
About the Author
Timothy Basil Ering says that THE STORY OF FROG BELLY RAT BONE was inspired by a visit to Descanso Gardens, a botanical garden in Pasadena, California, where there is a private garden for urban Los Angeles schoolchildren. "For as long as I can remember, I have loved to mix up words and phrases into silly little combinations that would make me laugh," he explains. "I'd make up songs while meandering down the outer beach of Cape Cod to favorite fishing spots, and 'Frog Belly Rat Bone' was always a favorite string of nouns. Then one day in Pasadena, I sat at a tiny picnic table in the children's garden and began to sketch the garden's scarecrow. I knew at that moment that Frog Belly Rat Bone had found a home." Timothy Basil Ering's artwork has appeared in books, magazines, theater sets, private murals, and fine art galleries. A resident of Somerville, Massachusetts, he is enamored of the sea and has a passion for nature and the outdoors. This is his first picture book with Candlewick Press.
Praise For The Story of Frog Belly Rat Bone…
Timothy Basil Ering's THE STORY OF FROG BELLY RAT BONE provides a dark-colored picturebook with handwritten pages as it tells of a boy's find of a strange, wonderful box filled with magic.
—Children's Bookwatch

. . . the art and the design are extraordinary. Ering's combination of hand-lettered text and scribbly, muddy, scratchy pictures looks like a collaboration between Tim Burton and Ralph Steadman (in a good mood).
—Booklist

The big revelation here is newcomer Timothy Basil Ering's jaw-dropping illustrations: his moody, dramatically layered acrylics plunge us into a surreal otherworld about to flower.
—FamilyFun

This compelling fantasy with whimsical illustrations celebrates the natural world and the world of imagination. It's a find for Earth Day.
—Yellow Brick Road

Ering's illustrations ooze personality . . . FROG BELLY RAT BONE offers a rich harvest for adults and children alike.
—Star Tribune
or
Not Currently Available for Direct Purchase