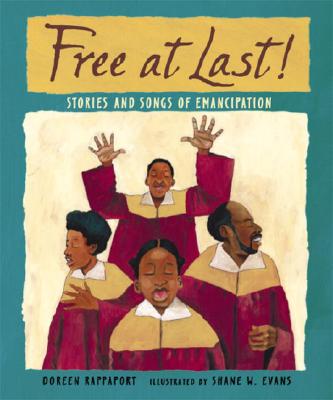 Free at Last!: Stories and Songs of Emancipation (Hardcover)
Stories and Songs of Emancipation
Candlewick, 9780763614409, 64pp.
Publication Date: December 1, 2003
* Individual store prices may vary.
or
Not Currently Available for Direct Purchase
Description
True stories and traditional songs shed light on a lesser known era in African-American history - the crucial decades between Emancipation and the start of the Civil Rights movement.

In the dark of night, a mother risks her life to search for her four children, stolen by her former master. A wife refuses to hand her husband over to an angry white-hooded mob, despite the wailing of her babies - and the foot stomping on her pregnant belly. A woman calmly takes her seat in a first-class coach and is ordered to leave: "I'm a lady. All ladies sit here," argues journalist Ida B. Wells before she is carried from the car, seat and all.

These are some of the vignettes presented in FREE AT LAST!, interwoven with spirituals, work songs, blues lyrics, poems, and a compelling narrative recounting the experience of black Americans in the South from the Emancipation Proclamation in 1863 through the dawn of the Civil Rights era in 1954. Drawing from true accounts, Doreen Rappaport writes of hopes for equality dashed by new "legal" injustices, and of a climate of fear and uncertainty fueled by intimidation, lynchings, and the rise of the Ku Klux Klan. But she tells also of the courageous struggle to re-create family and community life, achieve economic independence, explore creative expression, and eventually mount a successful legal challenge against segregation. Masterfully matched by Shane W. Evans's bold, emotion-filled paintings, this is an invaluable resource for teachers, parents, librarians, students, and everyone else who values what it means to be truly free.
About the Author
Doreen Rappaport is the author of numerous books for young readers, including the acclaimed NO MORE! SONGS AND STORIES OF SLAVE RESISTANCE - the first in what will be a trilogy of books illustrated by Shane W. Evans. Of FREE AT LAST! STORIES AND SONGS OF EMANCIPATION, she says, "This period in history was termed 'The New Era' by black abolitionist Frederick Douglass, who hoped that the end of the Civil War marked the beginning of equality for black Americans. But this hope for equality quickly vanished with a series of 'legal' injustices, violence, and daily humiliations against black men, women, and children, marking this as one of the most shameful periods in American history. This book traces the courageous struggle of black Americans to re-create family life and economic independence in the face of overwhelming danger and uncertainty."

Shane W. Evans is the illustrator of several children's books, including NO MORE! STORIES AND SONGS OF SLAVE RESISTANCE by Doreen Rappaport. Of FREE AT LAST!, he says, "As in NO MORE!, I was faced with the challenge of making beautiful images out of images that are not always beautiful. There are dark moments in American history - our story - that need to be told, need to be known, and very importantly, need to be seen. It has been a welcome challenge and honor to tell these stories in pictures."
Advertisement