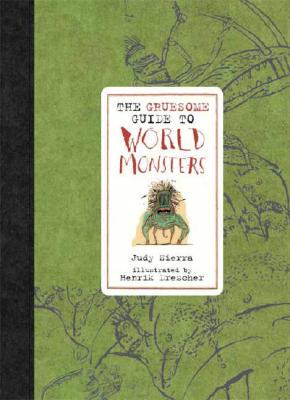 The Gruesome Guide to World Monsters (Hardcover)
Candlewick Press (MA), 9780763617271, 63pp.
Publication Date: July 12, 2005
* Individual store prices may vary.
Description
Make room in your suitcase for this monstrously entertaining guide to fantastic creatures around the world and how to elude them.
I did not make any of this up.
Do you know why you should have baby teeth handy when visiting the Midwest? Or why you should bring a cucumber with you when swimming in Japan? How good are you at solving Russian riddles? From Boston to Bejing, from Moscow to Mali, any place you visit has its own terrifying tales of very real creatures. Complete with handy "gruesomeness ratings," this guide offers all the important facts on some sixty-three folkloric monsters and how (if possible ) to survive an encounter with them. Meticulously researched by Judy Sierra and illustrated in grotesque detail by Henrik Drescher, here is the ultimate resource for any world traveler, armchair or otherwise, hoping to make it home alive.
About the Author
Judy Sierra is a scholar of folklore and mythology as well as the author of many award-winning books for children, including the NEW YORK TIMES bestseller WILD ABOUT BOOKS. Of THE GRUESOME GUIDE TO WORLD MONSTERS, she says, "I wrote this book for people who, like me, find Bigfoot and the Loch Ness Monster rather disappointing. I had so much fun researching this book, as I discovered little-known accounts of monsters more frightening than I ever imagined." Henrik Drescher has written and illustrated many wonderful books for children and adults, including PAT THE BEASTIE and THE BOY WHO ATE AROUND. His illustrations are frequently seen in ROLLING STONE, NEWSDAY, and THE NEW YORK TIMES BOOK REVIEW. He lives in Hong Kong.
or
Not Currently Available for Direct Purchase