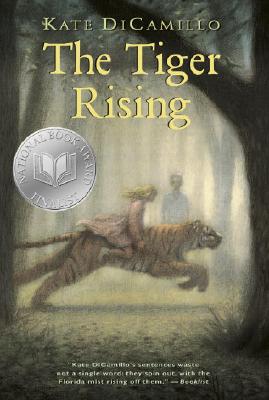 The Tiger Rising
Paperback

* Individual store prices may vary.
Other Editions of This Title:
Digital Audiobook (4/10/2006)
Paperback (12/8/2015)
Paperback, Spanish (9/1/2017)
Paperback, Spanish (5/1/2020)
Paperback, Large Print (2/1/2020)
Prebound (12/8/2015)
Hardcover (3/1/2001)
Library Binding, Large Print (2/1/2020)
Paperback, Chinese (6/1/2016)
Prebound (1/1/2001)
Audio Cassette (3/27/2001)
CD-Audio (4/11/2006)
Hardcover (2/8/2011)
Description
The National Book Award finalist from the best-selling author of BECAUSE OF WINN-DIXIE - now in paperback
Walking through the misty Florida woods one morning, twelve-year-old Rob Horton is stunned to encounter a tiger - a real-life, very large tiger - pacing back and forth in a cage. What's more, on the same extraordinary day, he meets Sistine Bailey, a girl who shows her feelings as readily as Rob hides his. As they learn to trust each other, and ultimately, to be friends, Rob and Sistine prove that some things - like memories, and heartaches, and tigers - can t be locked up forever.
Candlewick Press (MA), 9780763618988, 116pp.
Publication Date: July 1, 2002
About the Author
Kate DiCamillo says of THE TIGER RISING, "Rob Horton first showed up in a short story I was writing. I finished the story, but apparently Rob wasn t finished with me. He hung around for weeks afterward, haunting the other stories I was working on. Finally, I said to him, What in the world do you want? And he said, I know where there s a tiger. Like Sistine, I said one word back to him, Where? THE TIGER RISING is how Rob Horton answered me."
1. The Kentucky Star Motel, where Rob and his father live, has a sign in the shape of Kentucky. How did the motel get its name? Given the location of the story, why is this name odd? What is the significance of the star?
2. Throughout most of the story, how does Rob cope with things he can't change?
3. What makes the Threemonger brothers bully Rob? How does Rob deal with their threats and abuse?
4. Sistine, the new girl in school, was named after the Sistine Chapel. In what ways is she like or different from this famous landmark? What hope does she offer Rob, based on his knowledge of the Sistine Chapel itself?
5. How does whittling help Rob cope with life in Lister? Name some of the objects he whittles. What is their significance?
6. Why is Rob asked to leave school? Do you think the principal's reasons are fair? What is Rob's reaction?
7. Sistine and Rob handle problems and situations in opposite ways. Which way is better?
8. What is the rash on Rob's legs? What do you think the cure for his rash might be? What makes his rash worse? Better?
9. Considering Rob's artistic talent and Sistine's name, what parallel has the author drawn between these two characters?
10. How does owning a tiger make Beauchamp feel? What is the significance of the tiger's cage for Sistine? For Rob?
11. What are some of Rob's feelings that begin to surface with Sistine's help and friendship? How does Sistine help Rob deal with his grief?
12. When Willie May doesn't agree with Rob and Sistine's plans to let the tiger go, does she let them down? Why or why not? When Willie May says, "Sometimes right don't count" (page 99), what does she mean?
13. What happens at the end of the story that allows Rob to "open the suitcase"?
14. What part does the weather play in the story?
15. Name some of the emotions that permeate this story and to whom they are attributed.
or
Not Currently Available for Direct Purchase