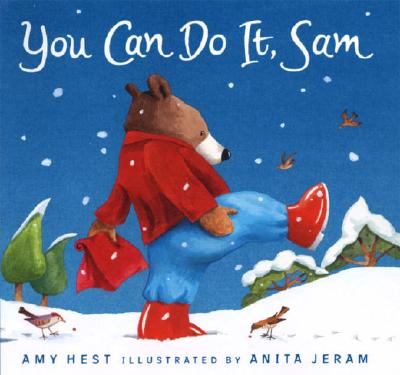 You Can Do It, Sam (Sam Books) (Hardcover)
Candlewick, 9780763619343, 32pp.
Publication Date: September 15, 2003
Other Editions of This Title:
Paperback (8/14/2007)
* Individual store prices may vary.
Description
Sam goes all by himself to deliver treats to his friends in an endearing new tale from the creators of the NEW YORK TIMES bestseller KISS GOOD NIGHT and DON'T YOU FEEL WELL, SAM?

"All by myself?" whispered Sam.
"Go, go, go!" Mrs. Bear put
her arm around Sam.
"You can do it, Sam."

It happened one winter morning, when the moon was still up, making moonbeams and shadows on Plum Street. In the little white house, Mrs. Bear and Sam were baking golden-brown cakes for their friends. "Come
on, cakes," whispered Sam. "I can't wait, I can't wait, I can't wait!" At last Mrs. Bear sniffed the air and said, "I believe our cakes are ready." But who will go out in the snow and carry the tasty treats to each sleepy house?

In their third story about Sam and Mrs. Bear, Amy Hest and Anita Jeram capture a child's simple joy of giving - and a quiet moment of confidence that will warm the coldest winter day.
About the Author
Amy Hest is the award-winning author of many books for children, including KISS GOOD NIGHT and DON'T YOU FEEL WELL, SAM?, her first two books about Sam and Mrs. Bear; WHEN JESSIE CAME ACROSS THE SEA, illustrated by P.J. Lynch, which received the Christopher Medal; and the beloved Baby Duck series, illustrated by Jill Barton. Of her inspiration for YOU CAN DO IT, SAM, she says, "I love snowy days! I love being out in the snow . . . and coming in from the snow . . . and the wonderful smell of something baking in the oven on snowy days."

Anita Jeram is the illustrator of GUESS HOW MUCH I LOVE YOU by Sam McBratney and KISS GOOD NIGHTand DON'T YOU FEEL WELL, SAM? by Amy Hest. She is also the author-illustrator of I LOVE MY LITTLE STORYBOOK; BUNNY MY HONEY; and ALL TOGETHER NOW. Of YOU CAN DO IT, SAM, she says, "One thing my kids have taught me is that parenting is a process. Sometimes they seem to grow so fast, sometimes so slowly, but growth for us and our children is a matter of thousands of tiny heroic steps, each one a heartwarming story just like
this one."