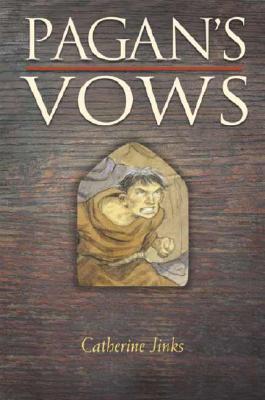 Pagan's Vows (Hardcover)
Candlewick Press (MA), 9780763620219, 330pp.
Publication Date: August 3, 2004
Other Editions of This Title:
Paperback (9/13/2005)
* Individual store prices may vary.
Description
The third of four books featuring Pagan's adventures, PAGAN'S VOWS is a medieval thriller that leads the reader through a web of mystery and intrigue in the most unlikely of places.
Having renounced the sword, Pagan and Lord Roland arrive at the Abbey of St. Martin to devote their lives to God. But no sooner are they outfitted in their novices' habits than Pagan suspects that something mysterious is going on. While the emotionally wrecked Roland tries to find peace in monastic life, the humility and blind obedience required of all novices do not come easily to the worldly Pagan especially when he learns that the monastery is riddled with deceit and corruption. Someone is stealing alms, and Pagan is determined to find out who. But the truth may come at a price, one that could force him to reconsider his pious role and his dedication to Roland.
About the Author
Catherine Jinks is a medieval scholar and young adult author a background that is evident in this third of four stories about Pagan Kidrouk. Catherine Jinks's books have garnered numerous awards, including the prestigious Children's Book Council of Australia Book of the Year. Pagan grew out of a university course Catherine Jinks took about the Crusades, and her fascination with the real Order of the Templar. She was also heavily influenced by British comedies like MONTY PYTHON AND THE HOLY GRAIL. She didn't expect, however, that she would end up writing four books about Templar squire Pagan Kidrouk. "He was such a strong character," she explains, "that he sprang into my head fully formed, and wouldn't go away until I'd worked out his entire life span. He's certainly the strongest character I ve ever written about. The cutest, too, I think." Catherine Jinks lives in Australia."
or
Not Currently Available for Direct Purchase