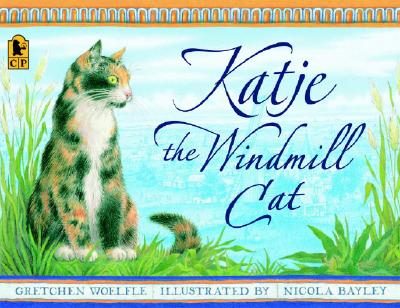 Katje, the Windmill Cat (Paperback)
Candlewick, 9780763620899, 32pp.
Publication Date: August 8, 2006
* Individual store prices may vary.
Description
A heroic tale, based on a true story more than five hundred years old, of a cat, a baby, and a flood

"Smoothly told as well as finely illustrated, this heartwarming book . . . is certain to become a favorite for lap sharing."
— BOOKLIST (starred review)

"The panel illustrations, like miniature Dutch paintings, glow with a patina of amber light and parallel the excitement of the text."
— PUBLISHERS WEEKLY
About the Author
Gretchen Woelfle is the author of THE WIND AT WORK: AN ACTIVITY GUIDE TO WINDMILLS, as well as numerous award-winning stories

for children. About KATJE, THE WINDMILL CAT she says, "When I visited the site where this story took place, and saw the sea and the dike and the windmills, I began to wonder, who was that cat that was so clever and so brave? It was then that Katje's story began to develop." Nicola Bayley is well known for her naturalistic and detailed illustrations. She has illustrated numerous books for children, including ALL FOR THE NEWBORN BABY by Phyllis Root and THE MOUSEHOLE CAT by Antonia Barber. In its starred review of Nicola Bayley's THE NECESSARY CAT, PUBLISHERS WEEKLY extolled her "versatile illustrations [that] betray sly humor and a true passion for her subject." About KATJE, THE WINDMILL CAT, Nicola Bayley says, "My cat Pansy loves to sit right on my artwork while I am painting, so she was the perfect model for Katje."
or
Not Currently Available for Direct Purchase