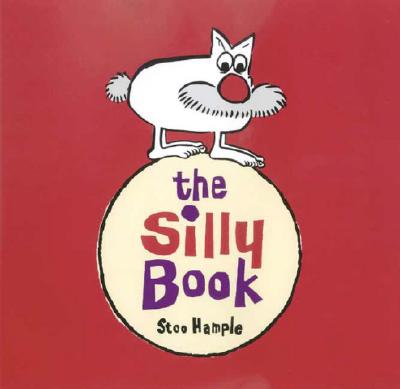 The Silly Book (Hardcover)
Candlewick, 9780763622565, 32pp.
Publication Date: August 3, 2004
Other Editions of This Title:
Hardcover (9/14/2010)
* Individual store prices may vary.
Description
Stoo Hample's 1961 classic elicits a fresh round of giggles with this irresistible edition featuring new art from the author-illustrator — and the same wonderful retro feel.

I am silly,
You are silly,
All of us are silly,
Willy.

And everything in THE SILLY BOOK is the silly-willy-nilliest! There are songy sills (oops!) — silly songs, silly stories, silly poems, silly secrets, silly things to do, a silly good-night, and even silly nothings. Anyone who reads this book will laugh like anything or else turn into a bathtub. First published more than forty years ago — when it became an uproariously silly success — THE SILLY BOOK has returned to cause a new generation of children to giggle like gigglecopters (giggle giggle giggle), roll on the floor (roll roll roll), and cheer, "Boodleheimer, Boodleheimer" (CLAP! CLAP! CLAP!).
About the Author
Stoo Hample is the author and illustrator of many books for children, including MY MOM'S THE BEST MOM, YOU STINK! I LOVE YOU, and the international bestseller CHILDREN'S LETTERS TO GOD. THE SILLY BOOK, Stoo Hample's first book, was originally edited by the legendary children's book editor Ursula Nordstrom. The book became a colossal hit, and its popularity led to THE SILLY RECORD, a Boodleheimer doll, and other silly merchandise. This is a book for those who, like the author, believe in silliness. "Life," he maintains, "is essentially silly, or why would there be war, disease, and dandruff?"
Praise For The Silly Book…
"Stoo Hample is the da Vinci of Daft, the Socrates of Screwy, and the Gershwin of Goofy. His book is mordant, scintillating, pungent, and deeply profound, but it's just a bit too silly for me." — Norton Juster, author of THE PHANTOM TOLLBOOTH — Norton Juster

"Stoo Hample's THE SILLY BOOK is more than forty years old and just as silly as ever. Me, too. Which is why I still love it. So do my grandchildren." — Mary Rodgers, author of FREAKY FRIDAY — Mary Rodgers

"THE SILLY BOOK is back again. It's the epitome of Stoo Hample himself. His crazy sense of humor and laughter — his unique frolic with the sound and fun in words — is like having Stoo himself in the room making us laugh." — Charlotte Zolotow, publisher emerita and children's book author — Charlotte Zolotow

"THE SILLY BOOK is — ha ha — so silly — ha ha — that I have trouble — ha ha — thinking about it while writing this — ha ha ha ha — blurb. I mean, have you noticed that the first two — ha ha — letters in Hample are Ha? I mean — ha ha — isn't that — ? It's so — ha ha ha ha ha ha ha ha ha ha. Forgive me." — Jules Feiffer — Jules Feiffer
or
Not Currently Available for Direct Purchase