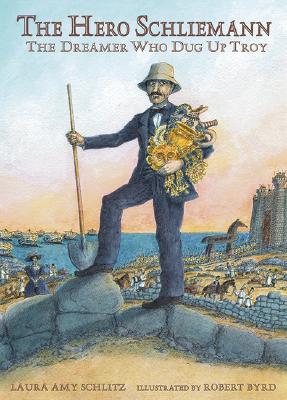 The Hero Schliemann: The Dreamer Who Dug Up Troy (Library Binding)
The Dreamer Who Dug Up Troy
Candlewick Press (MA), 9780763622831, 72pp.
Publication Date: July 11, 2006
* Individual store prices may vary.
or
Not Currently Available for Direct Purchase
Description
Archaeologist? Mythmaker? Crook? This engaging, illustrated biography of Heinrich Schliemann a nineteenth-century romantic who most believe did find the ancient city of Troy reveals him to be a fascinating mixture of all three.
From the time Heinrich Schliemann was a boy or so he said he
knew he was destined to dig for lost cities and find buried treasure. And if Schliemann had his way, history books would honor him to this day as one of the greatest archaeologists who ever lived. But a little digging into the life of Schliemann himself reveals that this nineteenth-century self-made man had a funny habit of taking liberties with the truth. Like the famous character of his hero, the poet Homer, Schliemann was a crafty fellow and an inventor of stories, a traveler who had been shipwrecked and stranded and somehow survived. And Heinrich Schliemann was determined to become a legend like Homer but in his own time.
Following this larger-than-life character from his poor childhood in Germany to his achievement of wealth as a merchant in Russia, from his first haphazard dig for the city of Ilium to his final years living in a pseudo "Palace of Troy," this engrossing tale paints a portrait of contradictions
a man at once stingy and lavishly generous, a scholar both shrewd and reckless, a speaker of twenty-two languages and a health fanatic addicted to cold sea baths. Laura Amy Schlitz weaves historical facts among Schliemann's fanciful recollections, while Robert Byrd's illustrations evoke his life and times in wonderful detail. Along the way,
THE HERO SCHLIEMANN gives young readers food for discussion about how history sometimes comes to be written and how it sometimes needs to be changed.
About the Author
LAURA AMY SCHLITZ has spent most of her life working as a librarian and professional storyteller. She has also been a playwright, a costumer, and an actress, and her plays for young people have been produced in professional theaters all over the country. She says, "When I began researching Schliemann's life, I found that he was even more remarkable than I had previously suspected. What a story! Shipwrecks and poverty and wealth and strokes of fantastic life and a Great Love and buried treasure . . . and it was all true. Then I read more, and discovered that some of it wasn't true. My romantic hero was a mythmaker and a liar. At that point, I was really hooked, because I've always been attracted to people who survive by their imagination." ROBERT BYRD is currently teaching children's book illustration at the University of the Arts in Philadelphia. He is the author-illustrator of many books for children, including LEONARDO, BEAUTIFUL DREAMER, winner of the Golden Kite Award for Nonfiction; FINN MACCOUL AND HIS FEARLESS WIFE; and most recently, THE HERO AND THE MINOTAUR: THE FANTASTIC ADVENTURES OF THESEUS. He says, "I did not want to make Herr Schliemann too serious; I tried to show a sense of humor, adventure, curiosity, courage, and even pomposity. I was particularly conscious of showing a variety of settings that would give the reader the full scope of his exotic travels."
Advertisement