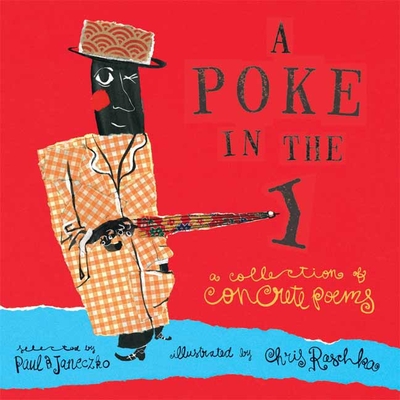 A Poke in the I: A Collection of Concrete Poems (Paperback)
A Collection of Concrete Poems
Candlewick Press (MA), 9780763623760, 35pp.
Publication Date: March 3, 2005
Description
"These aren't poems to read aloud, but to look at and laugh at together, with young children and especially older readers, who will enjoy the surprise of what words look like and what can be done with them." --BOOKLIST (starred review) Concrete poems startle and delight the eye and mind. The size and arrangement of words and letters can add or alter meaning -- forming a poem that takes the shape of crows that fly off the page or becoming a balloon filled with rhyme, drifting away from outstretched hands. Here, in a single extraordinary volume, are thirty poems from some of the world's finest visual poets, including John Hollander, Emmett Williams, Maureen W. Armour, and Douglas Florian. New to the paperback edition, tucked inside the front cover, are tips, guidelines, and inspiration for writing your own concrete poems.
About the Author
Chris Raschka is the illustrator of more than twenty highly praised books for children, including YO! YES?, a Caldecott Honor Book; CHARLIE PARKER PLAYED BE BOP; ARLENE SARDINE; and RING! YO? He says, "Concrete poetry is the yoga of words. Like feeling your breath and your bones, you begin to notice what words and sentences actually look like. It's just like the feeling you get after a fifteen-minute handstand. And you don't even have to put on loose-fitting clothes!" Chris Raschka lives in New York City with his wife and son. Paul B. Janeczko is a poet and teacher and has edited more than twenty award-winning poetry anthologies for young people. He says, "I want young readers to see the spectacular possibilities of poetry. I'm hoping this 'poke in the I' kicks kids' imaginations into high gear and lets them run wild writing their own concrete poems." Paul B. Janeczko lives in Maine with his wife and daughter. From the Hardcover edition.
Advertisement