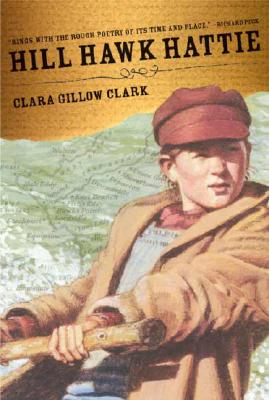 Hill Hawk Hattie (Paperback)
Candlewick, 9780763625597, 176pp.
Publication Date: August 3, 2004
* Individual store prices may vary.
Description
"The simple first-person narrative captures Hattie's rustic innocence, the thrilling rafting adventure, and the heartfelt struggle of a tough girl who feels useful to her father only in the role of a boy." — BOOKLIST (starred review)


Pa used to call Ma and me his girls. Now, he just says, 'girl,' orders me around with curse words like I'm nothing. I'm not nothing, though, 'cause I feel too mean inside to be that.

The year is 1883, Hattie's ma has died, and it seems that she took with her the sugar that kept Hattie and Pa sweet. Just when Hattie thinks things can't get any worse, Pa stops calling her 'girl' altogether and wants her to dress as a boy and help him on his next river-rafting trip. Soon eleven-year-old Hattie finds herself alongside Pa and two other Hill Hawks, shipping logs down the dangerous Delaware. On the angry river, Hattie's pluck is sorely tested as she fields Pa's criticism, plunges over waterfalls, and tries to keep the rowdy river men from discovering her secret.

Gritty and full of heart, Clara Gillow Clark's historical novel will leave readers breathless as it surges along the complex, emotional journey of a father and daughter. It's a powerful story of how death can undo a family — and how, against all likelihood, it can bind them together.
About the Author
Clara Gillow Clark says of HILL HAWK HATTIE, "This book takes place in the country of my heart, the Upper Delaware, where for many years I gathered materials to write a book about the old-time rafting era. Serendipitously, mysteriously, the story came flooding together one day when I was out walking on the dirt roads that border my property, and Hattie's voice rushed like a torrent into my head. I raced home and began to write her story, the story of the brave and feisty Hattie Belle Basket." Clara Gillow Clark lives not far from the Delaware River. This is her first book with Candlewick Press. "From the Hardcover edition."
Praise For Hill Hawk Hattie…
"What a wonderful writer Clara Gillow Clark is to have given us a hero as alive and compelling as Hattie Belle Basket. Simply and beautifully told, this book about the courage of a Hill Hawk girl and the world of the Delaware River in the early days of our country will enthrall readers."—Patricia Reilly Giff, author of LILY'S CROSSING, a 1998 Newbery Honor Book — Patricia Reilly Giff, author of LILY'S CROSSING, a 1998 Newbery Honor Book

"Clara Gillow Clark's HILL HAWK HATTIE rings with the rough poetry of its time and place. Hattie's androgynous adventure is an absorbing glimpse at our past."—Richard Peck, author of A YEAR DOWN YONDER, the 2001 Newbery Medal Book, and A LONG WAY FROM CHICAGO: A NOVEL IN STORIES, a 1999 Newbery Honor Book — Richard Peck, author of A YEAR DOWN YONDER, the 2001 Newbery Medal Book

"I loved the book and any young reader with a passion for life and adventure will take to it quickly. Hattie is a friend everyone wants to have and know."—Francis P. Hodge, Hodge Podge Books — Francis P. Hodge, Hodge Podge Books
or
Not Currently Available for Direct Purchase