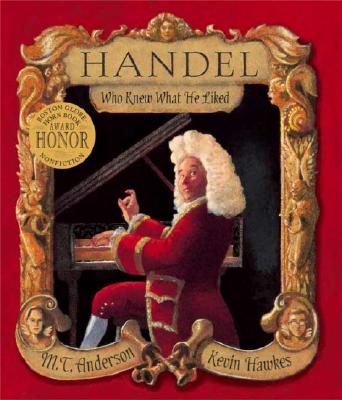 Handel, Who Knew What He Liked (Paperback)
Candlewick, 9780763625627, 48pp.
Publication Date: September 9, 2004
Other Editions of This Title:
Paperback (9/10/2013)
Hardcover (9/10/2013)
Hardcover (10/1/2001)
* Individual store prices may vary.
Description
"Both illustration and text are characterized by a saucy style, impeccable pacing, and a richness of content, and the two harmonize splendidly."
— SCHOOL LIBRARY JOURNAL (starred review)

George Frideric Handel was not your everyday eighteenth-century composer. And in a manner befitting its subject, this witty, rigorously researched, and accessible biography captures Handel's essential spirit — from a child who smuggled a clavichord into the attic to make music against his father's orders to a young man who imported forty-five pounds of mountain snow to chill wine for a gala. LOS ANGELES TIMES Book Prize winner M. T. Anderson depicts not only Handel's triumphs but also his struggles, chronicling the illness, ill fortune, and despair that led to his greatest achievement, the Messiah. With impeccable detail and a wink at the reader, Kevin Hawkes illustrates this singular story of Handel and the music through which he lives on.
Back matter includes a time line, discography, author's note, sources, and an index.
About the Author
M. T. Anderson is the author of the young adult novels THIRSTY and BURGER WUSS and a faculty member of Vermont College's MFA Program in Writing for Children. About HANDEL, WHO KNEW WHAT HE LIKED, he says, "As a child, I loved Handel's music, because it seemed to suggest that humans are a noble race, full of reason and gentility. Then I got to high school."

Kevin Hawkes is the illustrator of a number of popular books for
children, including WESLANDIA, THE LIBRARIAN WHO MEASURED THE EARTH, MARVEN OF THE GREAT NORTH WOODS, and PAINTING THE WIND: A STORY OF VINCENT VAN GOGH. He says, "I loved illustrating this book, though it was quite a challenge—Handel's music is so beautiful and powerful, and his life was so complex. I hope I've done him justice."
Praise For Handel, Who Knew What He Liked…
Like its subject, M.T. Anderson's charming large-scale picture book is ambitious. It seeks to amuse and instruct the young reader with both text and illustration...lovely, if somber-hued, illutstrations by Kevin Hawkes in an impressionistic style employ elaborate gilt-edged frames to surround the text.
—New York Times Book Review

In this wittily irreverent picture-book biograph, the legendary baroque composer is vividly brought to life...These gifted collaborators deserve a Hallelujah Chorus of their own for this volume, as well as a request for a speedy encore.
—Publishers Weekly (starred review)

In this picture-book biography, both illustration and text are characterized by a saucy style, impeccable pacing, and a richness of content, and the two harmonize splendidly in a manner befitting the subject.
—School Library Journal (starred review)

Anderson never forgets his audience in his enthusiasm for his subject. Illustrating the scenes, Hawkes' lively acrylic paintings are beautifully composed, dramatically lit, and irresistibly appealing.
—Booklist (starred review)

A clearly defined theme, stated in the title; a lively text, sufficiently detailed but not overburdened with minutiae; and stunning illustrations, many embellished with baroque-style frames, make this biography a fully integrated experience for young readers...a book worthy of a standing ovation.
—The Horn Book (starred review)

Readers don't need to know anything about the composer to enjoy this lively biography...Handel himself, with his cherubic face and large fuzzy white wig, bounds from almost every page, fairly glowing with good will and music.
—Kirkus Reviews

Just as Handel was a composer who knew what he liked, M.T. Anderson is an author who knows what kids like.
—The Horn Book Guide

The delightful text and drawings of this picture book not only capture the essential Handel better than any children's book I know, they also surpass many a bio-graphical tome. A marvelous achievement!
—Ellen T. Harris, Professor of Music at M.I.T

This splendid costume drama plus music history induces readers to provide the only missing ingredient: a sound track.
—Riverbank Review

In an intriguing introduction to the famous composer, a humorous, lively text about Handel's boyhood, music, and career is complemented by highly textured illustrations that are dramatic and full of fun.
—Boston Globe
or
Not Currently Available for Direct Purchase