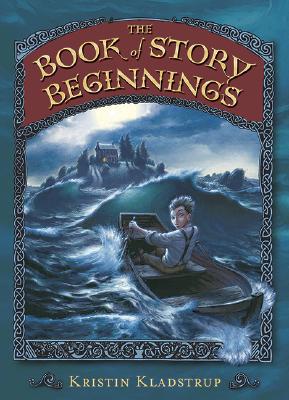 The Book of Story Beginnings (Hardcover)
Candlewick, 9780763626099, 368pp.
Publication Date: March 14, 2006
* Individual store prices may vary.
or
Not Currently Available for Direct Purchase
Description
Kristin Kladstrup's wonderfully transporting fantasy - featuring a ship full of orphaned pirate children, a pair of warring royals, and plenty of magic potions - is sure to thrill all those who dare turn its pages.

Oscar Martin was fourteen when he mysteriously disappeared from his Iowa farmhouse home in June 1914. His sister claimed Oscar had rowed out to sea - but how was that possible? There is no ocean in Iowa. When, nearly a century later, Lucy Martin and her parents move from their city apartment to that same farmhouse in Iowa, it is not long before Lucy discovers the strange and dangerous BOOK OF STORY BEGININGS. And it's not long before Oscar reappears in a bizarre turn of events that sends the two distant relatives on a perilous journey to save Lucy's father.

This remarkable debut fantasy novel is a thrilling page turner as well as a tribute to the writer's craft.
About the Author
KRISTIN KLADSTRUP says, "I have always loved the big brick house in Iowa where my mother grew up. From its windows, you can look out and see beautiful fields and pastures. But when I was young, I was always ignoring what was in front of me and wishing for something more exciting. From those same windows, I could imagine the ocean stretching out to the Iowa horizon. If I'd had the chance, I might have written a story beginning about it, just as Oscar does. But I was also much more inclined to pretend things than to write them down. Now that I'm grown up, things are backward: I can't pretend much of anything without writing it down. That's why there's now a pretend brick house in Iowa to go along with the real one!" Kristin Kladstrup lives with her family near Boston, Massachusetts. This is her first novel.
Praise For The Book of Story Beginnings…
JUNE 1914

He was up late reading TREASURE ISLAND Island for the hundredth time when the story idea came to him. Like all of his ideas, it was only the beginning of a story. But a beginning was better than nothing at all, so he climbed out of bed—quietly, because the rest of his family was asleep and he didn't want to wake them.

TREASURE ISLAND was a book he had read so often that he hardly needed to look at the well-worn copy that Pa and Ma had given him for Christmas two years before. He needed only to open it and dream of adventure. That was how the story beginning had come to him, like a dream—the words falling into place like notes of music from Ma's fiddle. He held them in his mind carefully, not wanting to forget them before he had time to write them down.

He sat at his old worn desk—there were ink stains all over it—and drew out a secret book from the bottom of a drawer filled with papers. It wasn't the five-cent composition book in which he kept his journal. That was where he wrote down his thoughts and observations on everything that mattered and didn't matter. The secret book was one he had found in the attic among Ma's things—secret things maybe, for the trunk had been locked, and perhaps he oughtn't to have used the key he'd found in Ma's room.

As he had done many times since finding the book, he looked at the words on its title page: THE BOOK OF STORY BEGINNINGS. There was a verse beneath the title. It made him shiver a bit because it was so wonderful. Almost like a story beginning itself:

Beware, you writers who write within;
Be mindful of stories that you begin;
For every story that has a beginning
May have a middle and an end.

Know this, too, before you write:
Though day must always lead to night,
Not all beginnings make good tales;
Some succeed, while others fail.

Let this book its judgment lend
On whether and how your beginning ends.

_______

THE BOOK OF STORY BEGINNINGS by Kristin Kladstrup. Copyright © 2006 by Kristin Kladstrup. Published by Candlewick Press, Inc., Cambridge, MA.
Advertisement