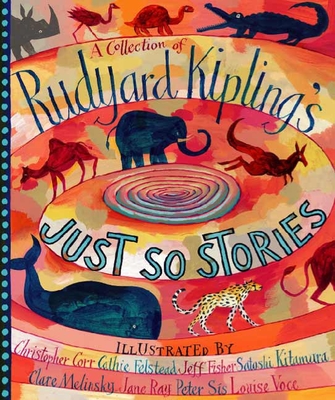 A Collection of Rudyard Kipling's Just So Stories
Hardcover

* Individual store prices may vary.
Description
"Fans of Kipling's work will appreciate the new look and newcomers to the classic stories will be taken in by the bold artwork and approachable trim size." — Publishers Weekly

How did the rude Rhinoceros get his baggy skin? How did a 'satiably curious Elephant change the lives of his kin evermore? First told aloud to his young daughter ("O my Best Beloved"), Rudyard Kipling's inspired answers to these and other burning questions draw from the fables he heard as a child in India and the folktales he gathered from around the world. In this sumptuous volume, Kipling's playful, inventive tales are brought to life by eight of today's celebrated illustrators, from Peter Sís's elegantly graphic cetacean in "How the Whale Got His Throat" to Satoshi Kitamura's amusingly expressive characters in "The Cat That Walked by Himself." From one of the world's greatest storytellers come eight classic tales just begging to be heard by a new generation — and a visual feast that offers a reward with every retelling. 

Featuring illustrations by:
Christopher Corr
Cathie Felstead
Jeff Fisher
Satoshi Kitamura
Claire Melinsky
Jane Ray
Peter Sís
Louise Voce
Candlewick, 9780763626297, 128pp.
Publication Date: October 7, 2004
About the Author
Rudyard Kipling (1865-­1936) was born and spent part of his childhood in India, where he would later work for several years as a journalist and editor. The author's experience as an expatriate influenced much of his writing, including such well-known works as Kim, The Jungle Book, and Just so Stories. Rudyard Kipling enjoyed an early success as a writer of short stories and poetry, and in 1907 he became the first Englishman to be awarded the Nobel Prize in Literature.