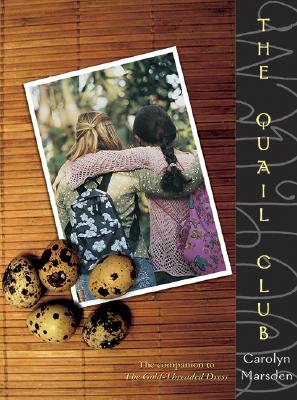 The Quail Club (Hardcover)
Candlewick Press (MA), 9780763626358, 138pp.
Publication Date: March 14, 2006
* Individual store prices may vary.
or
Not Currently Available for Direct Purchase
Description
Like THE GOLD-THREADED DRESS, Carolyn Marsden's acclaimed first novel, this sensitive and finely crafted sequel explores what it takes to be a true friend, and still be true to yourself.

Oy lives in America now, but she loves to go to the back room of Pak's auto shop on Saturdays to learn traditional Thai dances. She loves it almost as much as being a member of the Quail Club - five friends who gather after school to hatch and care for baby quail. When the teacher announces a talent show, Oy knows how proud her family and Pak would be to see her step onstage in her beautiful gold-threaded dress from Thailand. But bossy Liliandra vows to kick her out of the Quail Club if she won't team up for a very different kind of dance. Someone will be disappointed. But who?
About the Author
CAROLYN MARSDEN has an MFA in Writing for Children from Vermont College and is the author of THE GOLD-THREADED DRESS, the prequel to THE QUAIL CLUB, which received enormous critical acclaim and was named a BOOKLIST Top Ten First Novel for Youth and a BOOKLIST Editors' Choice. She is also the author of MOON RUNNER, SILK UMBRELLAS, and MAMA HAD TO WORK ON CHRISTMAS. Of THE QUAIL CLUB, she says, "When my younger daughter, Preeya, was in third grade, there was a school talent show, and she experienced a conflict between performing her Thai dance alone or dancing with her friends. I took that framework, plus elements from my imagination, and created this story."
Praise For The Quail Club…
Oy would never forget the day when Liliandra had tapped her
on the shoulder and held out a piece of paper that began: You are
invited . . . At first, Oy thought it was a birthday party invitation. But
this seemed even better. A club . . . Oy hadn't even known what quail
meant, but she'd wanted to be part of the group of friends.

Hejski's dad had taken all five of them to an ice-cream parlor to
celebrate the formation of the club. They'd sat at round tables in the
sunshine, and Oy had licked her coconut-flavored scoop extra slowly.

Afterward they'd set up the incubator on Hejski's back porch and
studied pictures of quail on the Internet. Oy had learned that quail were
birds with plumes on their heads. . . .

She couldn't imagine not being part of the club. If Liliandra made
her leave, she wouldn't see the quail hatch. But even more important
than the quail was the chance to hang out with the other girls. To talk
about silly things. To make plans together. To have friends. To be a
friend. She hadn't been lonely since the club was formed.

_______

THE QUAIL CLUB by Carolyn Marsden. Copyright © 2006 by Carolyn Marsden. Published by Candlewick Press, Inc., Cambridge, MA.
Advertisement