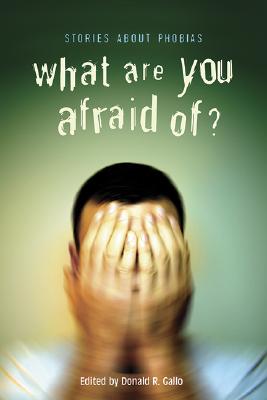 What Are You Afraid Of?: Stories about Phobias (Hardcover)
Stories about Phobias
Candlewick Press (MA), 9780763626549, 189pp.
Publication Date: July 11, 2006
* Individual store prices may vary.
or
Not Currently Available for Direct Purchase
Description
Renowned anthologist Donald R. Gallo calls on eleven top authors to explore what happens when fear takes on a mind of its own.
Everyone is afraid of something. But for those who have phobias, that fear is exaggerated and their reactions are extreme: the heart races, sweat beads up on skin, the eyes narrow, and the throat tightens. The ten stories in this fascinating anthology all present people with debilitating
anxiety from Alex Flinn's gripping psychological portrait of a teen with agoraphobia to David Lubar's humorous tale of a boy faced with dread incarnate in the form of his girlfriend's cat. Whether the trigger is clowns, knives, string, or crossing the street, the characters in these riveting stories confront, are confronted by, and, in some cases, ultimately succeed in overcoming their worst fears.
About the Author
DONALD R. GALLO is a recipient of the ALAN Award for Outstanding Contributions to Young Adult Literature and the editor of several short story anthologies for teens, including FIRST CROSSING: STORIES ABOUT TEEN IMMIGRANTS and DESTINATION UNEXPECTED.
Praise For What Are You Afraid Of?: Stories about Phobias…
(Taken from Introduction by Donald R. Gallo)

"I invited several well-known authors to write stories with teenagers as the main characters. Each writer got to chose his or her phobia. The results were surprising as well as satisfying. While a few authors looked inside themselves at their own fears, others looked outside for situations that would result in an interesting story. They looked at how fear affects their teenage characters, what may have caused that fear, how the characters try to deal with their fear, and in some cases, how that fear is eventually overcome.

I was surprised to see that no one in these stories is terrified of spiders (arachnophobia) or snakes and other reptiles (herpetophobia). And no one has some of the other common fears: fear of strangers (xenophobia), fear of thunder (ceraunophobia), or fear of flying (aviophobia). But as you will soon see, in addition to Alex Flinn's tense story about a boy with agoraphobia, there are stories about nine other phobias: Joan Bauer tells us about a young woman's' fear of gaining weight. Kelly Easton's character is claustrophobic. Gail Gils takes a humorous approach to a teen's lifetime fear of clowns. Angela Johnson looks at the experiences of a boy who is afraid of string. Ron Koertge's character is not just afraid to cross the street; he is unable to even put one foot off the curb. David Lubar takes a humorous look at a boy's fear of cats, but his character isn't laughing. Nancy Springer's character has an aversion to sharp knives. Jane Yolen and her daughter, Heidi E.Y. Stemple, explore a high-school student's fear of speaking in public. And Neal Shusterman's story includes a variety of phobias suffered by students in a special school until one unique student comes along.

What makes these teenage characters so afraid, and how do they deal with their fears? You'll have to read to find out."

__________

WHAT ARE YOU AFRAID OF? Ed. by Donald R. Gallo. Copyright © 2006 by Donald R. Gallo. Published by Candlewick Press, Inc., Cambridge, MA.
Advertisement