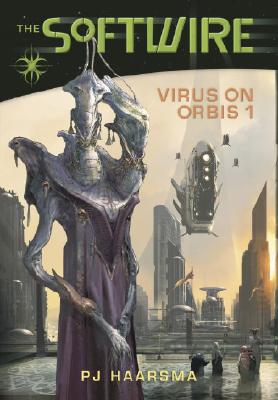 The Softwire: Virus on Orbis 1 (Hardcover)
Virus on Orbis 1
Candlewick, 9780763627096, 272pp.
Publication Date: August 22, 2006
* Individual store prices may vary.
or
Not Currently Available for Direct Purchase
Description
A human boy with an uncanny link to computers finds danger and discovery on the rings of Orbis in this riveting sci-fi adventure.

Thirteen-year-old Johnny Turnbull has always known there was something different about him, even before he and two hundred other kids landed on the first ring of Orbis. But once their spaceship lands, he is identified as the first-ever "softwire" — a human with the ability to enter and communicate with computers through his mind — and becomes the focus of intergalactic intrigue. Johnny and the rest of the refugee orphans are put to work in alien factories, and very quickly things go very wrong. When the all-knowing, all-controlling, and technologically "perfect" central computer starts malfunctioning, suspicious eyes turn to Johnny. Is he the one responsible? This action-packed, fast-paced sci-fi novel will keep kids on the edge of their seats.
About the Author
PJ Haarsma has been gazing at the stars and wondering what's out there his whole life. After a successful career as a commercial photographer, he finally decided to write about it. He lives in Los Angeles, California.
Praise For The Softwire: Virus on Orbis 1…
What happened next surprised even me.

The back of my eyeballs exploded into a ring of brilliant blue light. Instead of seeing the files in my mind's eye, my eyelids melted away and exposed the complex mechanics of the computer. It was as if I had pushed my head inside, as if I had physically entered the central computer. I felt a rush of electricity across my skin, exploring my face, as though something was trying to read me. The horrible noise outside quieted, and soon I was able to see things much more clearly. The colors inside the computer were as bright as in my first nightmare.

Then I saw a small figure running through the files cloaked in radiant green electrons.

_______

THE SOFTWIRE: VIRUS ON ORBIS I by PJ Haarsma. Copyright © 2006 by PJ Haarsma. Published by Candlewick Press, Inc., Cambridge, MA."PJ Haarsma's spectacular universe will take you further and faster into
the future. even non-sci-fi fans will blast off on this one." — Frank Beddor, author of the Looking Glass Wars trilogy — Frank Beddor

"I've always been amazed at a writer's ability to create a universe, and that's exatly what PJ Haarsma has done. With ease, he has created an amazing world — an economy, a religious faith, and an adventure not to be missed." — Nathan Fillion, actor, FIREFLY and SERENITY — Nathan Fillion
Advertisement