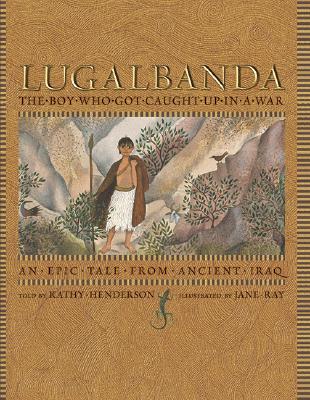 Lugalbanda: The Boy Who Got Caught Up in a War: An Epic Tale From Ancient Iraq (Hardcover)
The Boy Who Got Caught Up in a War: An Epic Tale From Ancient Iraq
Candlewick, 9780763627829, 80pp.
Publication Date: April 11, 2006
* Individual store prices may vary.
or
Not Currently Available for Direct Purchase
Description
Found in Iraq and older than the Bible, the Koran, or the Torah, this stirring epic - the world's oldest written story - now becomes available to a general readership for the very first time.

Lugalbanda woke with a jolt. He opened his eyes and what did he see but the terrible Anzu bird beating its wings in its nest high above. . . . Did he quake? Did he quail? No. Lugalbanda the Brave sat and stared, and into his head came a brilliant idea.

Before the Bible and the Koran, before even the Greek and Roman myths, there came a story from the land we now call Iraq. Speaking across five thousand years, in a voice so fresh and timeless it could have been written yesterday, this tale tells of an extraordinary journey, of a magical bird, of a battle that wouldn't end, and of wisdom gained. It is the story of Lugalbanda, a boy in a time of war.

Etched on clay tablets in cuneiform, lost underground for thousands of years, and rediscovered just 150 years ago, this account of the epic adventures of a loyal, resourceful boy is renarrated in lyrical prose by Kathy Henderson and set against Jane Ray's glorious images glinting with gold.
About the Author
KATHY HENDERSON is an artist, printmaker, and illustrator as well as an award-winning children's author. She first came across the story of Lugalbanda in 2003, just before the invasion of Iraq. "The timing was extraordinary. Here was a story that was incredibly old, powerful, and mysterious, from a civilization I'd barely heard of, and yet it spoke straight to the present. Just as extraordinary was that almost nobody knew about it. All through the process of making the book, I've felt hugely privileged to be able to play even a small part in bringing this story back to life." Kathy Henderson lives in London. JANE RAY is an acclaimed illustrator whose distinctive artwork for children's books is recognized around the world. She has won the Smarties Book Prize and has been nominated four times for the Kate Greenaway Medal. While illustrating LUGALBANDA, she enjoyed studying an array of ancient Sumerian artifacts in the British Museum. "This is the first time I've really had to research a particular historical period for a book, and I found it completely fascinating. It was wonderful to have the chance to explore the skill, beauty, and sophistication of this ancient culture - an added pleasure in illustrating the story." Jane Ray lives in London.
Advertisement