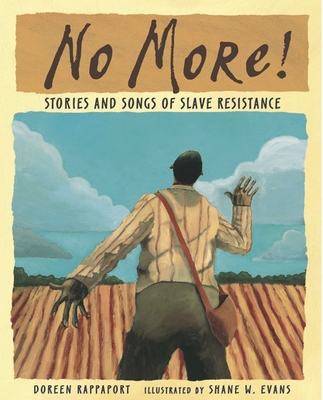 No More!: Stories and Songs of Slave Resistance (Paperback)
Stories and Songs of Slave Resistance
Candlewick Press (MA), 9780763628765, 60pp.
Publication Date: January 1, 2006
Description
True vignettes and traditional verse, set against starkly powerful images, tell the story of enslaved Africans in America as it has never been told before. A man who cannot swim leaps off a slave ship into the dark water. A girl defies the law by secretly learning to read and write. A future abolitionist regains his will to live by fighting off his captor with his bare hands: "I will not let you use me like a brute any longer," Frederick Douglass vows. Drawing from authentic accounts, here is a chronology of resistance in all its forms: comical trickster tales about outwitting "Old Marsa"; secret "hush harbors" where Africans instill Christian worship with their own rituals; and spirituals such as "Go Down Moses," whose coded lyrics signal not just hope for deliverance, but an active call to escape. Boldly illustrated with extraordinary oil paintings by award-winning artist Shane W. Evans, and meticulously researched by Doreen Rappaport, this stunning collection - spanning the period from the early days of slavery to the Emancipation Proclamation - is an invaluable resource for teachers, parents, libraries, students, and people everywhere who care about what it means to be free, what it is to be human.
Back matter includes important dates, a bibliography, resources for further information, and an index.
About the Author
Doreen Rappaport is the author of numerous books for young readers, including FREEDOM RIVER, illustrated by Bryan Collier and winner of a Coretta Scott King Honor Award for Illustration. About creating NO MORE!, Doreen Rappaport says, "Writing a book educates the writer. The inventive defiance, humanity, and resistance forged by African Americans under the horrors of slavery reinforced for me the power of individual dignity and community." Doreen Rappaport divides her time between New York City and a rural village in upstate New York. Shane W. Evans is the illustrator of several children's books, including OSCEOLA, edited by Alan Govenar and winner of a BOSTON GLOBE-HORN BOOK Honor Award and the Orbis Pictus Award for outstanding nonfiction. When working on NO MORE!, Shane W. Evans felt that his challenge was to share "the reality and darkness of slavery through painting." As he explains, "It is my goal to paint beautiful images, yet the subjects I depict are not always beautiful." Shane W. Evans lives in Missouri.
Advertisement