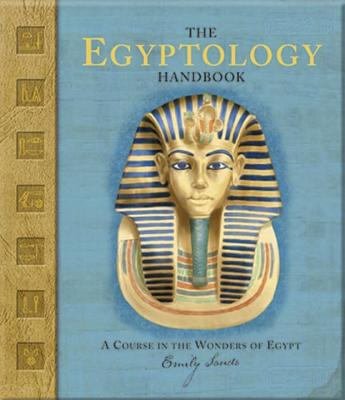 The Egyptology Handbook: A Course in the Wonders of Egypt [With Stickers] (Hardcover)
A Course in the Wonders of Egypt [With Stickers]
Candlewick Press (MA), 9780763629328, 77pp.
Publication Date: November 1, 2005
Description
Inside this indispensable and beautifully illustrated workbook is everything you need to know to become an esteemed Egyptologist. As readers of the fascinating EGYPTOLOGY are all too aware, the feisty explorer Emily Sands mysteriously vanished on an expedition up the Nile in 1927. But in a remarkable turn of fortune for Miss Sands's many fans, detectives have uncovered a second volume penned in her own hand -- a course book on ancient Egyptian history and culture intended for the voyager's beloved niece and nephew. Now available to budding Egyptologists everywhere, this comprehensive volume -- illustrated by the same artists who lent their talents to EGYPTOLOGY -- is brimming with facts on ancient Egyptian culture and history, followed by intriguing assignments and fill-in opportunities on everything from archaeological finds to theories on how the pyramids were built. Among the book's delightful novelty elements are: -- An envelope containing Miss Emily Sands's Top Ten Things to See in Egypt
-- Flaps to lift, revealing hidden treasure in desert sands
-- A four-page foldout section full of stickers featuring treasures from King Tut's tomb and other ancient Egyptian artifacts.
About the Author
Dugald Steer has written many books for children including the best-selling DRAGONOLOGY and its companion, THE DRAGONOLOGY HANDBOOK, as well as the forthcoming WIZARDOLOGY. For ten years he was an editor at Templar Publishing in England, but he now devotes himself full-time to writing. Other books he has written include, THE NIGHT TIGER, JUST ONE MORE STORY, and PICTURE THIS . . . (with Alison Jay). For the moment, though, it seems more "ologies" are in the offing. Nghiem Ta, Artistic Direction: Nghiem Ta works as a designer and paper-engineer at Templar where she has overseen the creation of the best-selling DRAGONOLOGY and EGYPTOLOGY, as well as the forthcoming WIZARDOLOGY. Prior to working with Templar, she spent four years with pop-up maestro Ron van der Meer. Her current projects include more books with "ology" in the title. Ian Andrew, Artist: Ian Andrew created the black and white pencil illustrations for EGYPTOLOGY and THE EGYPTOLOGY HANDBOOK. He is an accomplished animator having worked on the animated film, "Dolphins" which won several awards including Best Newcomer at the Zagreb Film Festival. He has illustrated many books for children including JIM'S LION by Russell Hoban and TELL ME ONE THING, DAD by Tom Pow. Nick Harris, Artist: Nick Harris created the large color illustrations in EGYPTOLOGY on his computer. In addition to forays into animated TV advertising, he spent a spell working in the background department on the feature film, "Who Framed Roger Rabbit?" He has illustrated many books for children including the Smarties book Prize-winning FIREWORK MAKER'S DAUGHTER by Phillip Pullman. Helen Ward, Artist: Helen Ward, who also worked on DRAGONOLOGY, painted the many color recreations of Ancient Egyptian statues, wall paintings, and antiquities as well as the 1920s memorabilia that appear in EGYPTOLOGY. Helen has also written a number of successful children's books including THE TIN FOREST and THE DRAGON MACHINE, both illustrated by Wayne Anderson.
Advertisement