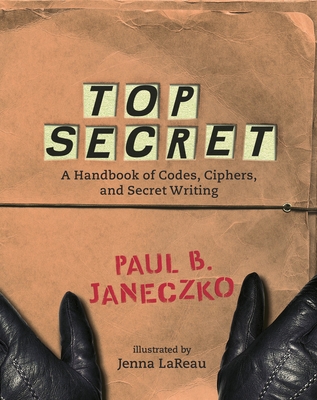 Top Secret: A Handbook of Codes, Ciphers and Secret Writing (Paperback)
A Handbook of Codes, Ciphers and Secret Writing
Candlewick Press (MA), 9780763629724, 136pp.
Publication Date: April 11, 2006
Description
"The author's upbeat, positive tone is refreshing and his enthusiasm about his topic is contagious." -- SCHOOL LIBRARY JOURNAL (starred review)
Pssst Do you know the difference between a code and a cipher? Can you tell a St. Cyr slide from a Cardano grille? Did you know that the discovery of a substitution cipher caused Mary Queen of Scots to lose her head? Don't look now, but packed into this practical field guide is everything a young person needs to know about the art of concealment - making and breaking codes, mastering cipher systems, and experimenting with secret writing. Offering plenty of hands-on practice sessions, tips for creating a code-making kit, sidebars on secret codes in history, and an amusing pair of spies to illustrate techniques, Paul B. Janeczko's tantalizing TOP SECRET won't stay a secret for long.
About the Author
Paul B. Janeczko is a poet and teacher and has edited numerous anthologies for young people, including A POKE IN THE I: A COLLECTION OF CONCRETE POEMS; VERY BEST (ALMOST) FRIENDS: POEMS OF FRIENDSHIP; and SEEING THE BLUE BETWEEN: ADVICE AND INSPIRATION FOR YOUNG POETS. He is also the author of LOADS OF CODES and SECRET CIPHERS. Jenna LaReau is a graduate of the Parsons School of Design in New York. TOP SECRET is her first book with Candlewick Press. She lives in Massachusetts, where she works as an illustrator and designer. From the Hardcover edition.
Advertisement