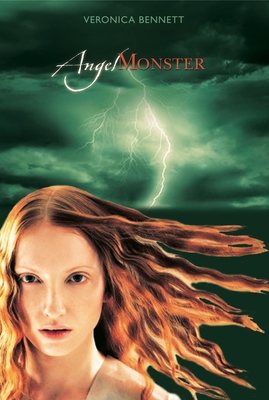 Angelmonster
Hardcover

* Individual store prices may vary.
Description
Veronica Bennett's lush reimagining of the life of Mary Shelley — on the eve of her authorship of the classic gothic novel Frankenstein — is a gripping story of love and obsession.

In the spring of 1814, poet Percy Shelley enters the life of young Mary Godwin like an angel of deliverance. Seduced by his radical and romantic ideas, she flees with him and her stepsister to Europe, where they forge a hardscrabble life while mingling with other free-spirited artists and poets. Frowned on by family and society, persecuted by gossip, and plagued by jealousy, Mary becomes haunted by freakish imaginings and hideous visions. As tragedy strikes, not once but time and again, Mary begins to realize that her dreams have become nightmares, and her angel . . . a monster. Now the time has finally come for the young woman who would become Mary Shelley to set her monster free.
Praise For Angelmonster…
George was still watching me. Boldly I looked back at him. Despite his superiority of title, wealth, sex, and age, the words of an eighteen-year-old girl in a sprigged cotton dress had impressed him.

"I have a better idea than cards," he said.

His gaze — penetrating, intelligent, accustomed to his own superiority — never left my face. None of us spoke. George sat forward in his chair. "Shall we all follow Mary's excellent example," he suggested, "and spend this evening in the company of spirits?"

"Capital idea!" exclaimed Polidori. Then, with a frown, "But what do
you actually mean, George?"

"I mean ghost stories," said George. "Let us each tell one, here in the
darkness, with the storm raging outside."

My heart was on fire. Many things I had not understood before had
linked themselves effortlessly together. Nightmarish visions, dreams that had dogged me day and night for years. The power and glory of the storm. The idea that a scientist might make a creature more monstrous than any God has devised. The earth-shattering possibility that life itself could lie in the ferocity of those sky-sparks that even now crackled their way across the heavens.

_______

ANGELMONSTER by Veronica Bennett. Copyright © 2006 by Veronica Bennett. Published by Candlewick Press, Inc., Cambridge, MA.
Candlewick, 9780763629946, 240pp.
Publication Date: May 9, 2006
About the Author
Veronica Bennett began her writing career as a freelance journalist when her two children were small. She soon moved into fiction, and her first novel was published in 1998. These days, the children are grown,and she works part-time as a college English lecturer. Veronica Bennett lives in England. This is her first book with Candlewick Press.
or
Not Currently Available for Direct Purchase