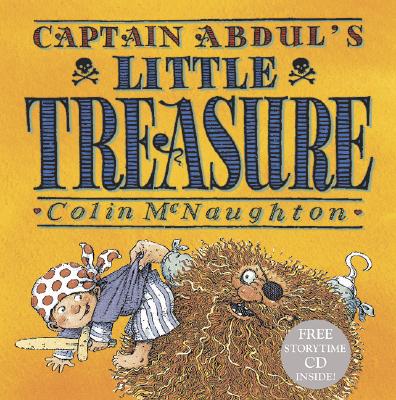 Captain Abdul's Little Treasure [With CD] (Hardcover)
Candlewick Press (MA), 9780763630454, 48pp.
Publication Date: April 11, 2006
* Individual store prices may vary.
or
Not Currently Available for Direct Purchase
Description
The incorrigible Colin McNaughton sneaks a baby aboard a pirate ship with hilarious results in this kid-pleasing saga of pseudo-sword-fighting, smelly diapers, and hide-and-seek on the high seas. Oooh-argh, ha-har!

KABOOM! Who could be a-disturbin' Captain Abdul's beauty sleep firin' cannons? No, it's not an attack on his raucous pirate ship, The Golden Behind. It's a special delivery - a Little Treasure, to be exact, sent courtesy of Mrs. Abdul, who's off on a pirating jaunt of her own. Now Captain Abdul and his hairy, scary mates are expected to babysit! Will this be the ruin of their "repootashun" and make them the laughingstock of the pirate world?
About the Author
COLIN MCNAUGHTON, an International Reading Association Children's Choices favorite, has created more than sixty books for children. "Of all the books and characters I've created, the Captain Abdul stories are my favorites - the most fun to write and draw," he says. "One day I was out and about on the streets of London when I heard a mother refer to her son as 'my little treasure, ' and I thought, 'Hmmm.' So the title of this book came first and the story, about fathers and sons, just flowed out. I enjoyed every minute of it - every scratchy hatchy pen-and-ink mark, every splash of watercolor, every 'AVAST!, ' every 'OOOH-ARRGH!, ' every last 'HA-HAR!' I hope it shows." Colin McNaughton lives in London with his wife.
Advertisement