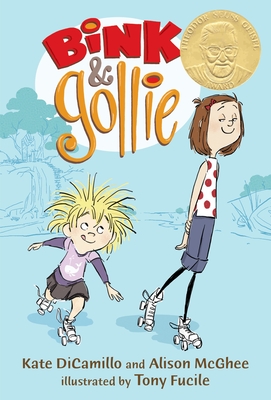 Bink and Gollie
Hardcover

* Individual store prices may vary.
Other Editions of This Title:
Paperback (4/10/2012)
Prebound (4/10/2012)
Prebound (4/10/2012)
Autumn 2010 Kids' Next List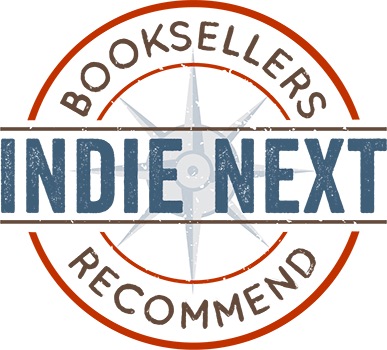 "Any new book by Kate DiCamillo or Alison McGhee is cause for celebration---but when they write a book together it kicks the party up a notch! Bink and Gollie are the best of friends even though they are polar opposites when it comes to height, taste in socks and the meaning of compromise. This book for emerging readers is rife with memorable language ('I long for speed'; 'use your gray matter'; 'the finger has spoken') which you may find creeping into your own vocabulary. Most of all, it's a bonanza of friendship and imagination!"
— Collette Morgan, Wild Rumpus, Minneapolis, MN
View the List
Description
Winner of the 2011 Theodor Seuss Geisel Award! In a brilliant collaboration, best-selling authors Kate DiCamillo and Alison McGhee, along with acclaimed illustrator Tony Fucile, introduce an outrageously funny pair of friends.

Meet Bink and Gollie, two precocious little girls — one tiny, one tall, and both utterly irrepressible. Setting out from their super-deluxe tree house and powered by plenty of peanut butter (for Bink) and pancakes (for Gollie), they share three comical adventures involving painfully bright socks, an impromptu trek to the Andes, and a most unlikely marvelous companion. No matter where their roller skates take them, at the end of the day they will always be the very best of friends. Full of quick-witted repartee, this brainchild of Newbery Medalist Kate DiCamillo and award-winning author Alison McGhee is a hilarious ode to exuberance and camaraderie, imagination and adventure, brought to life through the delightfully kinetic images of Tony Fucile.
Praise For Bink and Gollie…
Oh, happiness! Move over Pippi Longstocking!...Bink and Gollie...join the ranks of George and Martha, Frog and Toad, Zelda and Ivy, and all the other resilient pairs that celebrate the challenges and strengths of a great friendship
—The New York Times Book Review

Gollie is reed thin, geeky, and archly judgmental; Bink is petite and down to earth...The plots serve mostly as a framework for DiCamillo and McGhee's sharp, distinctly, distinctly ungirly dialogue that makes every page feel like a breath of fresh air. And true to his background as an animator for Pixar and Disney, Fucile makes his inklike digital illustrations crackle with energy and sly humor.
—Publishers Weekly (starred review)

All three stories, written with short sentences, abundant dialogue, and some contemporary expressions, offer delightful portrayals of two headstrong characters who, despite their differences and idiosyncratic quirks, know the importance of true friendship.
—School Library Journal

Reality is gleefully suspended here...appealingly oddball elements (roller skates, pancakes, rainbow socks)...expressive, cartoon-style drawings, including several wordless spreads, extend the sense of character, story, and madcap adventure. Children will have fun filling in all the spaces this high-spirited, quirky, and warmhearted offering leaves to the imagination.
—Booklist

Entirely successful in portraying the bumps in the road and bruised feelings that can come with friendship. The rewards, though, are also apparent...Fucile's unfussy digital illustrations with lots of white space perfectly highlight this odd couple's particularities.
—Horn Book

The authors demonstrate a pleasing ear for rhythm in just about everybody's dialogue. Fucile's illustrations give the girls their real presence: bouncing, soaring lines have a tousled cartoonish vigor that dominates every spread...With appeal both for reading aloud and alone, this might make an entertaining title for sophomore readers to share with younger kids, and they'll relish teasing their tongues with Gollie's vocabulary.
—Bulletin of the Center of Children's Books

An especially overt love letter to friendship...One of those books that doesn't fit neatly into any category....But wouldn't you be proud if you spied your 6-year-old daughter rehearsing such lines as 'Bink: I implore you, do not knock.' Indeed you would....Who says simple words must come first to readers?....Love of language is one of the tried-and-true ways into the reading life.
—Los Angeles Times

An effervescent and endearingly quirky chapter book by Kate DiCamillo and Alison McGhee....Both writers are known for their amusing and sometimes arch narrative style, and here, in three short chapter-stories, they give us two girls who delight and vex each other in equal parts....Tony Fucile's illustrations of the girls are comic and full of zip.
—Wall Street Journal

It really is the best thing ever. And what's more, it's a book like nothing else you've ever seen. Nothing. Ever. Seen. Trust me on this one. I see a lot of books.
—Fuse #8 Production (SLJ blog)

We had to put the book down and just laugh uncontrollably on more than one occasion. I think it's safe to say we were giving each other looks that said: Could this perfect little creation be FOR REAL? Could it be any funnier?
—Seven Impossible Things blog

An odd couple for the 21st century, Bink and Gollie will circulate like mad, winning new fans at every stop.
—100 Scope Notes

Three zippy chapters, they learn about compromise, individual quest and shared experience, and jealousy. Splashy drawings, mostly in black and white, further infuse energy, humor and honest feeling.
—San Francisco Chronicle

Plots serve mostly as a framework for DiCamillo and McGhee's sharp, distinctly ungirly dialogue that makes every page feel like a breath of fresh air. And true to his background as an animator for Pixar and Disney, Fucile makes his inklike digital illustrations crackle with energy and sly humor.
—Washington Examiner

Excellent writing, good storytelling and top-notch digital art introduce two girls who bring Ramona and Pippi to mind. Headstrong but lovable Bink and opinionated but loyal Gollie are best friends — most of the time anyway — who enjoy each other and understand the importance of friendship.
—Cleveland.com

Hilarious and peculiar friends...delightful characters.
—UrbanBaby Daily Picks

Charming...Amply illustrated with Tony Fucile' exuberant cartoons.
—Buffalo News

Expressive illustrations by Tony Fucile provide lots of comic relief as the two friends grapple with issues like compromise and the need for personal space.
—Scripps-Howard (syndicated column)

Featured/recommended on Oprah's 2012 Kids Reading List
—Oprah.com
Candlewick, 9780763632663, 96pp.
Publication Date: September 14, 2010
About the Author
Kate DiCamillo is the author of The Magician's Elephant, a New York Times bestseller; The Tale of Despereaux, which was awarded the Newbery Medal; Because of Winn-Dixie, a Newbery Honor book; and six books starring Mercy Watson, including the Theodor Seuss Geisel Honor Book Mercy Watson Goes for a Ride. She lives in Minneapolis.

Alison McGhee is the award-winning author of books for all ages, including The Song of Middle C, illustrated by Scott Menchin; the #1 New York Times bestseller Someday, illustrated by Peter H. Reynolds; the young adult novel All Rivers Flow to the Sea; and the adult novel Shadow Baby, a Today Show Book Club selection. She lives in Minnesota.

Tony Fucile is the author-illustrator of Let's Do Nothing!, chosen as a best book of the year by School Library Journal and Amazon.com. He has spent over twenty years designing and animating characters for numerous cartoon feature films, including Cars, The Lion King, Finding Nemo, and The Incredibles. He lives in the San Francisco Bay area.
Book Videos