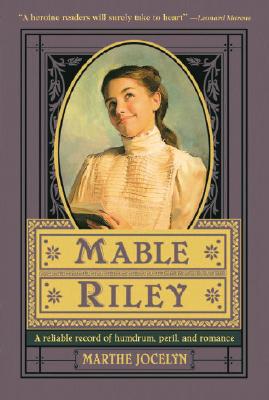 Mable Riley: A Reliable Record of Humdrum, Peril, and Romance (Paperback)
A Reliable Record of Humdrum, Peril, and Romance
Candlewick, 9780763632878, 288pp.
Publication Date: February 13, 2007
* Individual store prices may vary.
or
Not Currently Available for Direct Purchase
Description
"Historical fiction buffs, especially those interested in the women's suffrage movement, will enjoy sharing the eye-opening experiences of Mable Riley." PUBLISHERS WEEKLY
It's the year 1901, and fourteen-year-old aspiring writer Mable Riley is on her way to fulfilling her dreams, or so she hopes. After moving with her sister to a faraway town, Mable meets a real writer, one who wears daring fashions, unnerves the townsfolk by sharing her opinions, and has a few shocking secrets as well. Designed as a vintage journal, MABLE RILEY follows a feisty girl as she finds her own voice in a time when women struggled for independence a charmingly told tale that is as funny as it is inspiring.
Praise For Mable Riley: A Reliable Record of Humdrum, Peril, and Romance…
"Mable Riley is absolutely charming. Her journal is funny, compassionate, and rich in detail about the everyday lives, the dreams, and the courage of ordinary people. I loved meeting Mable." — Karen Cushman, author of THE MIDWIFE'S APPRENTICE, winner of the 1996 Newbery Medal, and CATHERINE, CALLED BIRDY, a 1995 Newbery Honor Book — Karen Cushman, author of THE MIDWIFE'S APPRENTICE, winner of the 1996 Newbery Medal, and CATHERINE, CALLED BIRDY, a 1995 Newbery Honor Book

"Mable Riley is the best of everyday heroines-imaginative and funny, a thinker and a dreamer. Readers will laugh out loud at her Anne-of-Green-Gables hijinks, and cheer her independent thinking all the way." — Megan McDonald, author of the best-selling Judy Moody series — Megan McDonald, author of the best-selling Judy Moody series

"Three cheers for Mable Riley and a hurrah for author Marthe Jocelyn. . . . Mable is a force, albeit a very humorous one. . . . Readers will delight in and applaud Mable finding her voice 'singing like rain and hollering like thunder.'" — Ken Setterington, Children and Youth Advocate for Library Services, Toronto Public Library and co-author of A GUIDE TO CANADIAN CHILDREN'S BOOKS — Ken Setterington, Children and Youth Advocate for Library Services, Toronto Public Library and co-author of A GUIDE TO CANADIAN CHILDREN'S BOOKS

"[A] wry, perceptive novel . . . As an aspiring writer, tart, determined Mable Riley rarely wants for words, and her love of the grand gesture — and the truth — mark her as a heroine readers will surely take to heart." — Leonard Marcus, author of MARGARET WISE BROWN: AWAKENED BY THE MOON — Leonard Marcus, author of MARGARET WISE BROWN: AWAKENED BY THE MOON
Advertisement