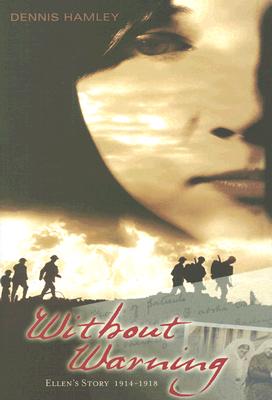 Without Warning
Ellen's Story, 1914-1918
Hardcover

* Individual store prices may vary.
Description
After World War I calls her brother to the front lines, a young woman sets out to make a difference in this powerful historical novel.

"I don't know much about wars except soldiers and sailors get killed and Jack might get killed with them. But grown-up people say . . . they're a chance for young men to go off to foreign parts and be brave and come home heroes."

England, 1914. The piercing tone of the bugle changes a sleepy British village and Ellen Wilkins forever. It is the call to enlist — a chance Ellen's brother, Jack, won't miss. The call also spurs Ellen to leave the safety of home and begin a journey of self-discovery, one that takes her close to the front lines to pursue her calling as a nurse. In this gritty and insightful novel, Dennis Hamley deftly portrays the everyday realities of life in wartime, along with harrowing accounts of war's lifelong effects on the young people caught in its path.
Praise For Without Warning: Ellen's Story, 1914-1918…
PART 1
-1914 -
Recruiting

CHAPTER 1

It's dark now. The church clock has long struck midnight. Betty and Madge, my younger sisters, went to sleep the moment I blew their candle out, but I can't sleep and I'm wondering if I ever will again.

I'll never forget today. Everybody's been so happy, cheering and waving flags. But I don't think they're happy, not deep down, and I'm not happy at all. Our Jack has been a good brother to me, and we've always been very close. But soon he'll be going away, and we might never see him again.

There's a war starting. I don't know much about wars except soldiers and sailors get killed and Jack might get killed with them. But grown-up people say different — that wars are nothing really; they're a chance for young men to go off to foreign parts and be brave and come home heroes and, besides, the Hun needs a taste of his own medicine, going through Belgium and killing all the babies and the nuns.

Jack works for Crispin and Thacker, the local builders. He's an apprentice bricklayer, but he can turn his hand to anything. For instance, he loves taking my bike to bits and putting it back together again. He'd love to have a motorcycle — a Rudge or a Royal Enfield — but he can't
afford one. He loves his football too and plays center forward for Lambsfield. Pa wanted him to leave building and work on the railway, the same as he does, but he wouldn't. He wants to join up, and he's been waiting for the recruiting officer from the Sussex regiment to come to our village of Lambsfield. Well, the recruiting officer did come today. As soon as he heard about it, our Jack said, "You see if I'm not a soldier of the king by this evening."

Ma cried and said, "Please don't, Jack," and Jack answered, "Don't worry, Ma. Everybody wants to go and, besides, we've fought in every war there ever was and we've won the lot, and we'll win this one too. I'll cut the kaiser's mustache off myself."

I didn't like Jack talking like that, and neither did Ma, because she cried into her apron, though nobody noticed but me. Pa said, "You go, boy, and good luck to you. If I was twenty years younger, I'd go with you." Jack's nineteen now and old enough to be taken by the army. I'm sixteen next January. Betty and Madge, the twins, are eleven.

Today was Saturday. In the morning a stage made of trestle tables was set up in the market square, and on it was another table spread with a Union Jack. Word traveled through the village that something unusual was going to happen. Suddenly, early in the afternoon, the high, clear tone of a bugle echoed through the village, like a summons. Jack and Pa were sitting in the living room quietly digesting Ma's roast mutton, potatoes, and cabbage. At the sound they both stood up. "It's the call," said Jack. "The army's here. I've been waiting for this. I'm going."

"I'm coming with you," said Pa, and they dashed out of the house together. I ran out after them.

The call had brought most of the men in the village to the market square and quite a few women as well. I arrived just as the bugler's last echoes were dying away. Now he stood at attention with the bugle at his side. A soldier with a drum stood beside him. Next to them, standing ramrod straight, was a big sergeant with a red face and a bushy mustache. His boots twinkled in the sunshine.

An army officer sat behind the table. With him sat Lord Launton, Mr. Brayfield the vicar, and old Colonel Cripps, with his medals on his chest and his right sleeve pinned up because he'd lost an arm. People said a Zulu warrior chopped it off in a terrible battle in Africa years ago. He hadn't been seen in the village much since his wife died last year, and I could tell that people were pleased he was here today.

There was a roll on the drum. The noise made me feel strange inside, as if it called me somewhere I didn't want to go. Before you could blink, the market square was full. When the soldier had finished the drumroll, he lifted the drumsticks smartly up level with his chin and stood at attention. The officer stood up.

"Men of Lambsfield," he said. He didn't mention women, though there were just as many there. "My name is Anstruther, Major Anstruther. You know that our beloved country is in dire peril. The British Army is our sure shield and has never shirked its duty, but our danger is so great that we need every able-bodied man in the land to flock to the colors. You, and you alone, good men of Sussex, can rid us of the scourge that threatens us and every rightthinking person in the world."

People were very quiet when he said this, until someone at the back shouted, "God save the king," and then everybody roared, "God save the king, God save the king." Major Anstruther lifted his hand for quiet. "I see you are full of the patriotic fervor that the army needs. I am proud to be an officer in the Royal Sussex Light Infantry, and Sergeant Witherspoon and Private Slack here are proud to be soldiers."

The sergeant said, "Very true, sir."

Major Anstruther went on. "And so should all you good men here today. Once you join our ranks, I promise you pride in yourselves and the knowledge that you are doing your duty for your country."

_______

WITHOUT WARNING by Dennis Hamley. Copyright © 2007 by Dennis Hamley. Published by Candlewick Press, Inc., Cambridge, MA.
Candlewick, 9780763633387, 336pp.
Publication Date: October 9, 2007
About the Author
Dennis Hamley, who has written many books for children, says the events of World War I and II have inspired much of his work. He lives in Hertford, England.
or
Not Currently Available for Direct Purchase