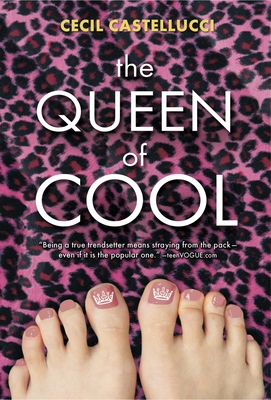 The Queen of Cool (Paperback)
Candlewick, 9780763634131, 176pp.
Publication Date: August 14, 2007
Other Editions of This Title:
Hardcover (2/14/2006)
MP3 CD (9/13/2016)
* Individual store prices may vary.
Description
"Albert Camus meets Mariah Fredericks in this smart, edgy take on one adolescent's search for identity and meaning in life." — Kirkus Reviews

On the outside, Libby Brin is the most popular girl in school. But on the inside, Libby is dying — of boredom. In a moment of desperation, Libby signs up for an internship at the Los Angeles Zoo, much to the dismay of her friends, who'd prefer she spend her time with them, shopping, partying, and making fun of everyone else. Oddly, Libby realizes that she actually enjoys her new job and that she may even like the two "nerds" she works with. Will the Queen of Cool be forced to give up her crown?
About the Author
Cecil Castellucci is the author of the young adult novel Boy Proof. She is also a writer, filmmaker, actress, and singer-songwriter, and engages in many, many other creative pursuits.
Praise For The Queen of Cool…
Ms. Lew, an aspiring actress who can hardly fake being interested in teaching us, places her hands on the back of her chair and sighs heavily.

I bet we are the closest thing she ever comes to having an audience.
She turns and writes the words Endangered Species on the board in dry erase marker. She's picked the color red. I can tell this is going to be a dramatic class.

"The world is in ecological crisis. Who can guess some of the causes for endangerment?" she asks.

A handful of kids in the front of the room raise their hands.

"Tina," Ms. Lew says as she calls on Tiny.

"Causes could include habitat loss, or the introduction of a new exotic species into the environment."

Showoff.

I wonder if Tiny has to sit in the front of the room because she can't see over anybody's head if she sits anywhere else. I wonder if that's why she always raises her hand. I wonder if the classroom looks different from the front of the room. I bet it's harder to not pay attention.

"Good, Tina." Ms. Lew says. "Anyone else? Libby? You have a look of deep thought on your face. Do you have anything to add?"

"Me?" I ask. I hate being singled out in class.

"No thoughts at all?"

"None I care to share," I say.

People laugh. Ms. Lew is not happy.

"How about overexploitation?" Sid calls out.

I turn to look at him as he acts the hero, thinking he's saved my ass. He hasn't. I could've come up with an acceptable answer. If I really wanted to.

"Good. How about some examples?" Ms. Lew says.

"Well, like people who think tiger bones will make them virile," Sid says.

People laugh. Louder.

I notice that Sid is not laughing. The word virile doesn't make him crack a smile.

"Excellent," Ms. Lew says, her mood brightening a bit. She probably feels good about her performance today.

She starts writing down a million notes on the board. Pulling down maps. Handing out info sheets. She is excited.

But me, I am ready for a nap.

I open my loose-leaf notebook, propping it up in front of me. Then I put my head down on the desk.

It smells like pencil and hand.

_______

THE QUEEN OF COOL by Cecil Castellucci. Copyright © 2006 by Cecil Castellucci. Published by Candlewick Press, Inc., Cambridge, MA.