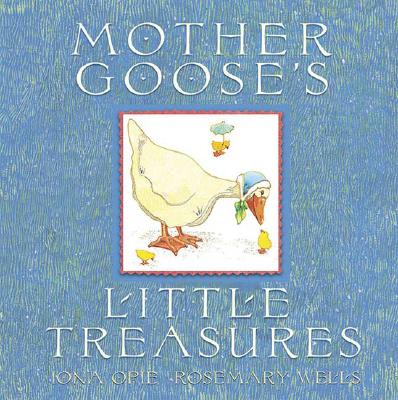 Mother Goose's Little Treasures (Hardcover)
Candlewick Press (MA), 9780763636555, 52pp.
Publication Date: August 28, 2007
Description
The world's most respected Mother Goose folklorist reunites with one of the great illustrators of our time to present a rare selection of rhymes to share and treasure.
From the far reaches of shared memory come these charming but little-known nursery rhymes, mysterious tidbits of lore brought back to shining life by the shared talents of the two most beloved Mother Goose treasurers, Iona Opie and Rosemary Wells. MOTHER GOOSE'S LITTLE TREASURES is a gem in itself, allowing the littlest listeners and the most discerning collectors to discover a selection of marvelous rare nursery rhymes made new again.
From the Introduction:
These rhymes are a confirmation that though we must live in the real world, we need to know the way to another world, where there are no limits and nothing is certain. . . .
Just turn the pages, and look and listen, and say, as I do, Oh yes, oh yes, of course
Iona Opie.
About the Author
Iona Opie has dedicated her life to collecting and preserving children s rhymes as an art form. "Nursery rhymes are good for you," she says. "If you acquire a nursery rhyme-ical attitude, you re not at all put out by life s little bumps and bruises they just seem funny and entirely normal." Iona Opie lives in Hampshire, England. Rosemary Wells is the author and illustrator of more than sixty books for young readers and has received many awards, including a NEW YORK TIMES BOOK REVIEW Best Illustrated Book Award, a BOSTON GLOBE-HORN BOOK Award, and the inaugural Carle Honors Artist Award for lifetime achievement. She lives in Greenwich, Connecticut."
Advertisement