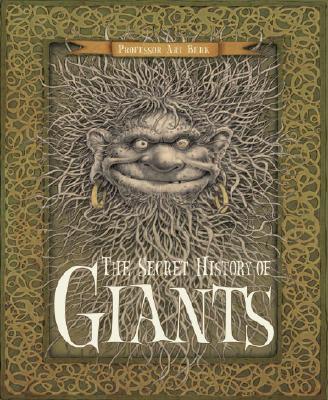 The Secret History of Giants
Hardcover

* Individual store prices may vary.
Description
Are there giants among us? Find their story writ large in a lavish exploration touching on folklore and myth, truth and whimsy.

Ancient Greece had its Titans, the Celts their Green Knight, the Bible Goliath — and for those who know where to look, signs of these legendary hulking creatures still abound. Now comes a hugely engrossing chronicle of giants since antiquity, from their role in forming mountains and causing earthquakes to the mysteries of their sacks (watch out for hitchhiking humans); from their means of employment (how did the Druids built Stonehenge?) to an extensive map of places around the world where giants may likely be found. Exhaustive and lushly illustrated, this enormously valuable resource is sure to fascinate all who open its covers.

Special features include:

* sundry flaps, booklets, and gatefolds

* a lavish foiled and embossed cover

* an elegant tassel dangling from the spine
Candlewick Press (MA), 9780763640477, 48pp.
Publication Date: September 23, 2008
About the Author
Ari Berk is a writer, visual artist, and scholar of literature, folklore, and myth. He has written everything from academic works on ancient cultures to popular books about myths for children and adults. A professor at Central Michigan University, Ari Berk has traveled widely and made friends (of all sizes) in many parts of the world.