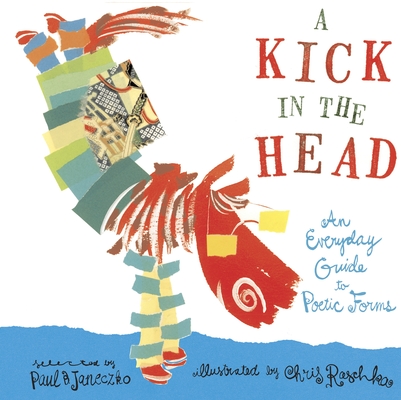 A Kick in the Head (Paperback)
An Everyday Guide to Poetic Forms
Candlewick, 9780763641320, 64pp.
Publication Date: March 10, 2009
* Individual store prices may vary.
Description
"Readers will have the good fortune to experience poetry as art, game, joke, list, song, story, statement, question, memory. A primer like no other." — SCHOOL LIBRARY JOURNAL (starred review)

In this splendid and playful volume — second of a trilogy — an acclaimed creative team presents examples of twenty-nine poetic forms, demonstrating not only the (sometimes bendable) rules of poetry, but also the spirit that brings these forms to life. Featuring poems from the likes of Eleanor Farjeon (aubade), X. J. Kennedy (elegy), Ogden Nash (couplet), Liz Rosenberg (pantoum), and William Shakespeare, the sonnet king himself, A Kick in the Head perfectly illustrates Robert Frost's maxim that poetry without rules is like a tennis match without a net.
Back matter includes notes on poetic forms.
About the Author
Paul B. Janeczko is a poet and teacher and has edited more than twenty award-winning poetry anthologies for young people, including STONE BENCH IN AN EMPTY PARK, LOOKING FOR YOUR NAME, SEEING THE BLUE BETWEEN, and A POKE IN THE I, which was an American Library Association Notable Book.

Chris Raschka is the illustrator of more than twenty highly praised books for children, including YO! YES?, a Caldecott Honor Book; CHARLIE PARKER PLAYED BE BOP; I PLEDGE ALLEGIANCE; A CHILD'S CHRISTMAS IN WALES; and, of course, A POKE IN THE I, which was a NEW YORK TIMES Best Illustrated Book.
Praise For A Kick in the Head: An Everyday Guide to Poetic Forms…
Readers will have the good fortune to experience poetry as art, game, joke, list, song, story, statement, question, memory. A primer like no other.
—School Library Journal (starred review)

This is the introduction that will ignite enthusiasm. The airy spaces between the words and images will invite readers to find their own responses to the poems and encourage their interest in the underlying rules, which, Janeczko says, 'make poetry-like sports-more fun.'
—Booklist (starred review)

The title poem proclaims that 'poetry jumpstarts . . . imagination'; this book shows how that's done.
—The Horn Book (starred review)

Janeczko's disciplined but accessible examples, plus Raschka's spirited Asian-inspired images, add oomph to this joyful poetry lesson, sure to be welcomed by teachers and aspiring poets everywhere.
—Publishers Weekly (starred review)

A beautiful, beautifully clear celebration of the discipline of poetry—and the possibilities offered by that discipline—this offering will find use both in the hands of eager poets and on the reference shelf.
—Kirkus Reviews (starred review)

Featured/recommended
—Parenting Press e-zine