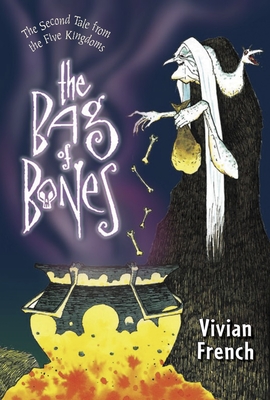 The Bag of Bones (Hardcover)
Candlewick Press (MA), 9780763642556, 247pp.
Publication Date: July 28, 2009
Description
When the quill writes GO GO GO frantically on the wall, and the House of the Ancient Crones heaves Gracie Gillypot outside onto the path, it can mean only one thing: there's Trouble in the Five Kingdoms. This time it's in the form of a beady-eyed, green-tongued witch named Truda Hangnail, who with her banished Deep Magic has vowed to succeed Queen Bluebell on the throne. Now that her horrible spell has shrunk the good witches of Wadington to the size of, well, rats, can anything stop her? Will the strengths, smarts, and charms of a spunky trueheart, a sweet-natured orphan, a scruffy prince, a substantial troll, and two squabbling bats be enough to foil her insidious plot?
About the Author
Vivian French has written dozens of acclaimed books for children, including THE ROBE OF SKULLS, the first book in the Tales from the Five Kingdoms series; as well as A PRESENT FOR MOM; GROWING FROGS; I LOVE YOU GRANDPA; T. REX, and THE STORY OF CHRISTMAS. She lives in Scotland.
Advertisement