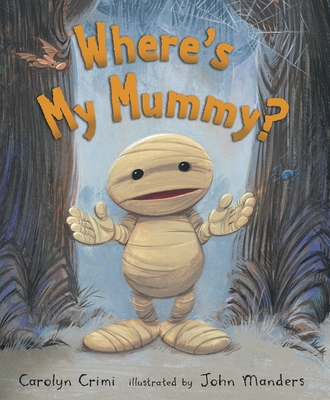 Where's My Mummy? (Hardcover)
Candlewick, 9780763643379, 32pp.
Publication Date: July 28, 2009
Other Editions of This Title:
Hardcover (7/3/2008)
* Individual store prices may vary.
Description
This gently spooky read-aloud treat is also a satisfying bedtime book — sure to delight the youngest reader on many a deep, dark night.

Little Baby Mummy wants just one more game of hide-and-shriek with Big Mama Mummy before bedtime. The night is deep and dark, full of friendly creatures that click their clacky teeth and whoosh past on flippy-floppy wings. But who will comfort Little Baby Mummy if a small, scritchy-scratchy someone gives him a scare? Big Mama Mummy, of course! Fresh, comical illustrations complement this everso- slightly suspenseful story with a satisfying ending.
About the Author
Carolyn Crimi is the author of numerous books for young readers, including Henry and the Buccaneer Bunnies, also illustrated by John Manders, and Boris and Bella, illustrated by Gris Grimly. She lives in Evanston, Illinois.

John Manders has illustrated several books for children, including Henry and the Bucaneer Bunnies by Carolyn Crimi, The Perfect Nest by Catherine Friend, and Minnie's Diner: A Multiplying Menu by Dayle Ann Dodds. He lives in Pittsburgh.