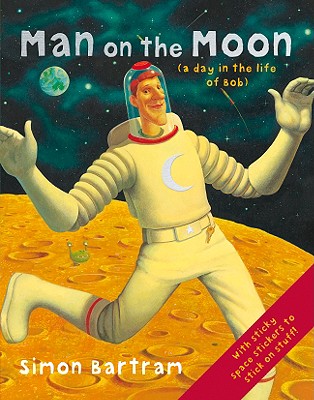 Man on the Moon: (A Day in the Life of Bob) [With Sticker(s)] (Paperback)
(A Day in the Life of Bob) [With Sticker(s)]
Templar Books, 9780763644260, 32pp.
Publication Date: February 1, 2009
* Individual store prices may vary.
or
Not Currently Available for Direct Purchase
Description
Bob has a very important job on the Moon. But who's that in the
background making faces at him? Kids will laugh along at this strikingly illustrated tongue-in-cheek tale.
6:00 a.m. Wake up. Have two eggs for breakfast.
8:00 a.m. Arrive at launchpad. Change into special man-on-the-moon suit.
8:45 a.m. Blast off.
8:58 a.m. Arrive on Moon.
9:00 a.m. Start work.
This is how Bob, the Man on the Moon, begins his day. It's Bob's job to entertain the tourists (handstands and high moon jumps are a hit), conduct Moon seminars (how long does it take to walk around the Moon on stilts?), sell souvenirs (pens, postcards - the usual), and keep the Moon clean and neat. Some people say that aliens are the ones who leave all the trash, but Bob tells them aliens don't exist, and he would know . . . wouldn't he?
About the Author
Simon Bartram has illustrated four children's books, including PUMPKIN MOON, about which PUBLISHERS WEEKLY said, "Bartram reinvents David Weisner's TUESDAY with grimacing jack-o-lanterns and a hellfire orange gleam." Of MAN ON THE MOON!, Simon Bartram says, "I wrote the book after I read reports in the newspaper that soon civilians would be taking trips to the moon. If so, then someone would have to keep the moon tidy and presentable - hence, Bob. Another relevant point of inspiration was that I have always suspected that some of my closest friends are not from this planet!"
Advertisement