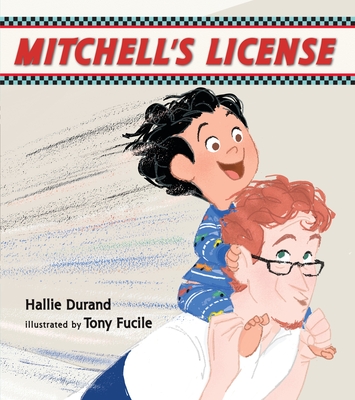 Mitchell's License (Mitchell Goes) (Hardcover)
Candlewick, 9780763644963, 40pp.
Publication Date: April 26, 2011
* Individual store prices may vary.
Description
Hop in for a hilarious, heartwarming ride with four-year-old Mitchell, a kid with a need for speed, a lead foot, and a very special license to drive.

Mitchell was four years, one month, and five days old when he got his license. He may need a little boost getting into the driver's seat, but once he's behind the wheel, his car sure goes fast! Left turn, right turn, slow down for speed bumps - Mitchell is a pro. And he loves the way that horn sounds! There's just one problem: Mitchell and his car have a slight disagreement about what type of fuel should go into the tank. . . . With warmth and sly wit, Hallie Durand follows a young child obsessed with all things automobile, while Tony Fucile's comical illustrations convey the well-tuned bond between an obliging father and a high-octane child.
About the Author
Hallie Durand is the author of Dessert First and Just Desserts, both illustrated by Christine Davenier. She lives in New York.

Tony Fucile is the author-illustrator of Let's Do Nothing!, a School Library Journal Best Book of the Year, as well as the illustrator of Bink & Gollie by Kate DiCamillo and Alison McGhee. He has spent more than twenty years designing and animating characters for numerous feature films, including The Lion King, Finding Nemo, and The Incredibles. He lives in the San Francisco Bay area.
Praise For Mitchell's License (Mitchell Goes)…
In the politics of bedtime, conflict is sometimes resolved by parental fiat, and sometimes by grassroots revolt. In Mitchell's house, creative negotiation has produced a settlement: Mitchell is issued a license to drive his father to bed at the appropriate time.
—Bulletin for the Center of Children's Books (starred review)

This car and driver know how to have fun together, and the portrayal of father-son bonding is realistic and reassuring. The loose, energetic style of the art, on a clean white background, suits the active story and will please all sorts of young drivers
—Booklist

Minimalist environments, a neutral color palette and the home's décor epitomize the modern '50s era, while the bond between father and son is timeless. An incredibly entertaining ride
—Kirkus Reveiws

The pacing is riotous …Big spreads burst with comic energy; [Fucile's] background in animation and character development is evident in the way the father's face morphs from interest to exasperation and exhaustion.…Destined for family favoritehood.
—Publishers Weekly

Young readers will be tickled, and parents will appreciate the creative bedtime play.
—School Library Journal

Such a fun story about the wonderful bond between a patient father and a son with a very, very active imagination.
—About.com

Sharing this book aloud is sure to get the response, "Again!"
—The Oregonian

An original story featuring an endearing father-son relationship… full of humor and imaginative action.
—San Francisco / Sacramento Book Review

Featured/recommended on Oprah's 2012 Kids Reading List
—Oprah.com