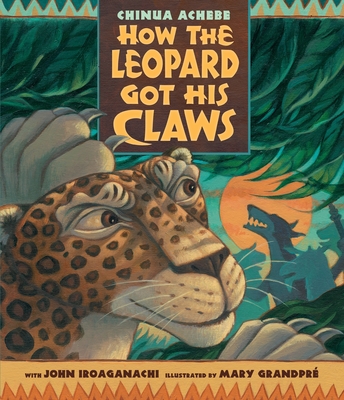 How the Leopard Got His Claws
Hardcover

* Individual store prices may vary.
Other Editions of This Title:
Paperback (10/22/2019)
Description
From Chinua Achebe, father of modern African literature, comes a vivid fable about power and freedom.

In the beginning, all the animals lived as friends. Their king, the leopard, was strong but gentle and wise. Only Dog had sharp teeth, and only he scoffed at the other animals' plan to build a common shelter for resting out of the rain. But when Dog is flooded out of his own cave, he attacks the leopard and takes over as king. And it is then, after visiting the blacksmith's forge and knocking on Thunder's door, that the angry leopard returns to regain his throne by the menace of his own threatening new claws. In a riveting fable for young readers about the potency and dangers of power taken by force, Nigerian writer Chinua Achebe, author of Things Fall Apart, evokes themes of liberation and justice that echo his seminal novels about post-colonial Africa. Glowing with vibrant color, Mary GrandPré's expressive and action filled paintings bring this unforgettable tale to dramatic life.
Praise For How the Leopard Got His Claws…
Whether read as a fable with African roots or as an allegory, this is a handsome treatment of a memorable tale.
—Kirkus Reviews
Candlewick, 9780763648053, 32pp.
Publication Date: September 27, 2011
About the Author
Chinua Achebe (1930-2013) was born in Nigeria. An early career in radio ended abruptly in the national upheaval that led to the Biafran war, during which Achebe joined the Biafran Ministry of Information and represented Biafra on various diplomatic missions. In 1971, while also serving as editor of the Heinemann African Writers series, he helped to found the immensely influential literary magazine Okike. Achebe was the David and Marianna Fisher University Professor and Professor of African Studies at Brown University. He lectured widely and received many honors from around the world, including the Honorary Fellowship of the American Academy of Arts and Letters, and honorary doctorates from more than thirty institutions. He was the recipient of Nigeria's highest award for intellectual achievement, the Nigerian National Merit Award. In 2007, he won the Man Booker International Prize for Fiction. He was also awarded the 2010 Dorothy and Lillian Gish Prize, which recognizes cultural figures for having "an unprecedented impact in their chosen fields."

Mary GrandPré is perhaps best known for her jacket illustrations for the U.S. editions of the Harry Potter series. The illustrator of Phyllis Root's Lucia and the Light and numerous other picture books, she also worked on scenery development for the animated film Antz and has done illustrations for top editorial and advertising clients. She lives in Sarasota, Florida.