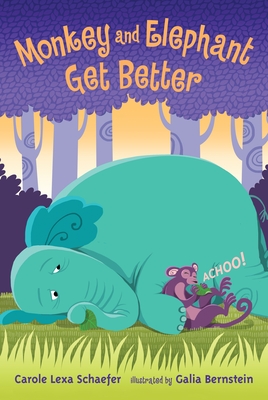 Monkey and Elephant Get Better: Candlewick Sparks (Hardcover)
Candlewick Sparks
Candlewick Press (MA), 9780763648411, 48pp.
Publication Date: March 26, 2013
Description
When two friends who are not exactly alike come down with colds, figuring out what will make each other feel better can be a surprising endeavor
Monkey and Elephant are very good friends who have a lot in common. They both like morning time. They both like shiny rocks. And they both like to hear their own voices: "TAH. TAH. TAH." But Monkey is Monkey and Elephant is Elephant. They are not exactly the same. So when Elephant starts to sneeze achoo Monkey has her own ideas of what will make him feel better. And when Monkey gets the sniffles, Elephant has his own ideas of what will make her feel better. Maybe there's more than one way to enjoy a soft pile of hay, some fresh water, and a bit of entertainment
About the Author
Carole Lexa Schaefer is the author of many acclaimed picture books for children, including Down in the Woods at Sleepytime, illustrated by Vanessa Cabban; The Bora-Bora Dress, illustrated by Catherine Stock; and Big Little Monkey, illustrated by Pierre Pratt. Carole Lexa Schaefer lives on Camano Island, in Washington State. Galia Bernstein was born and raised in Israel and moved to New York in 1999 to study at Parsons the New School for Design. She lives in Brooklyn, New York.
Advertisement