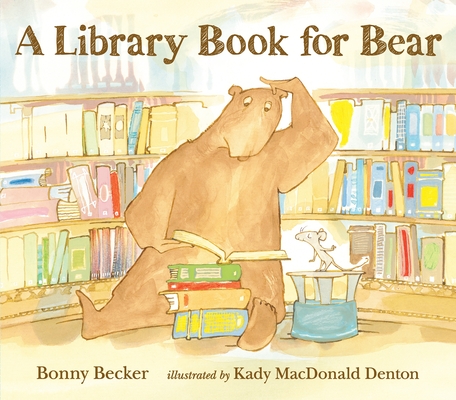 A Library Book for Bear (Bear and Mouse)
Hardcover

* Individual store prices may vary.
Other Editions of This Title:
Paperback (8/10/2021)
Description
Curmudgeonly Bear succumbs to Mouse's entreaties and discovers the joy of books in a hilarious story that fans will covet for their own library.

Bear does not want to go to the library. He is quite sure he already has all the books he will ever need. Yet the relentlessly cheery Mouse, small and gray and bright-eyed, thinks different. When Bear reluctantly agrees to go with his friend to the big library, neither rocket ships nor wooden canoes are enough for Bear's picky tastes. How will Mouse ever find the perfect book for Bear? Children will giggle themselves silly as Bear's arguments give way to his inevitable curiosity, leading up to a satisfying story hour and a humorously just-right library book.
Praise For A Library Book for Bear (Bear and Mouse)…
Becker tells the story with economy, style, and wit, spicing the narrative with dialogue that reveals the characters' personalities as clearly as their body language does in the illustrations. Well composed and expressively drawn, Denton's fluid ink, watercolor, and gouache artwork contrasts the sizes and moods of the characters very effectively. Friends with very different personalities are a staple of picture books, but few duos are as dependably fresh and amusing as Mouse and Bear. A fine, funny addition to the Bear and Mouse series.
—Booklist

In a series of scenes both silly and gently humorous, the ever persistent Mouse works hard to persuade gruff-but-lovable bear to become a library user. ... Excellent text and layout combine with friendly illustrations to set the newest generation of readers laughing at the well-worn joke of someone bellowing for quiet in the library. Team Becker and Denton has again succeeded in creating a book that keeps the attention of young readers and makes them smile.
—Kirkus Reviews

The hooray-for-books message is served subtly, with the focus on Bear's funny outbursts and un-library-like behavior. As always, Bear's grouchiness and Mouse's joie de vivre come through in Denton's expressive lines. This is one book to check out—over and over.
—The Horn Book

Bear continues to be a brilliantly conceived character: he is the Narrow Comfort Zone Kid, but since he's writ literally large and ornamented with the absurdly formal language of an elderly clubman, he makes unease about novelty into a character trait rather than an a childish developmental stage. He's also just a fascinating guy, with his interest in pickle literature and matter-of-fact use of red rollerskates to get around, and his quirks help explain what Mouse, who's more a narrative catalyst than a co-star, gets out of the friendship. Denton's assured understanding of these character warms her watercolor art, with Bear's operatic poses (he has a particularly nice line in histrionic leaning) humorously incongruous yet somehow graceful. Soft, glimmery earth tones are suitably self-effacing for Bear-like kids who want art that is rewarding but not overwhelming. Kids who love the library will relish feeling superior to the uninitiated Bear, while those similarly daunted will appreciate the ursine validation.
—Bulletin of the Center for Children's Books

Denton's colorful watercolor, ink, and gouache illustrations perfectly capture the expressions of these mismatched best friends. Young readers wary of new experiences can count on Bear to lead the way.
—School Library Journal

Appealing... Here, Bear has agreed to go to the library with his bright-eyed friend Mouse, though frankly he doesn't see the point. ... Later, in warm watercolor, we see Bear happily marching home with a basketful of new books. Message received!
—The Wall Street Journal

Another charming story about Bear and Mouse, this delightful selection is lots of fun while also supporting the gentle message about the joy of reading and going to the library.
—Reading Eagle (syndicated from Kendal Rautzhan)
Candlewick, 9780763649241, 32pp.
Publication Date: July 22, 2014
About the Author
Bonny Becker is the author of several books about Bear and Mouse, including the New York Times bestseller A Visitor for Bear. She is also the author of a number of award-winning picture books and middle-grade novels. Bonny Becker lives in Seattle.

Kady MacDonald Denton is the illustrator of many books for children, including the Bear and Mouse books, as well as Two Homes by Claire Masurel. Kady MacDonald Denton lives in Ontario.