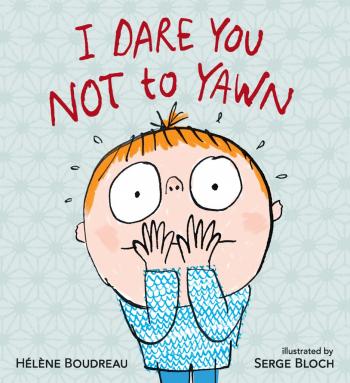 I Dare You Not to Yawn (Hardcover)
Candlewick, 9780763650704, 32pp.
Publication Date: March 12, 2013
* Individual store prices may vary.
Description
Just try to resist this comical — and infectious — cautionary fable that will have even bedtime-avoiders gladly snuggling up for a nightly challenge.

A yawn can land you in your pj's and under the covers before you can blink and say "Baa baa black sheep." So clamp your mouth shut and look away from your sleepy dog, stay away from your cuddly blanket, and whatever you do, don't think of baby orangutans stretching their long arms out for a snuggly hug. Otherwise, you might find your mouth opening wide and letting out a great big yawny yaaaaaawn — hey, you were supposed hold it in! A hilarious read-aloud that is so much fun, kids will beg for it again and again, whatever the consequences.
About the Author
Hélène Boudreau is the author of twelve books for children and young adults, including the novels Acadian Star and Real Mermaids Don't Wear Toe Rings as well as a popular Canadian chapter book series called Red Dune Adventures. She lives in Ontario.

Serge Bloch's first children's book, I Can't Wait by Davide Cali, is an IBBY award winner and has sold more than 100,000 copies worldwide. His other credits include The Enemy, also written by Davide Cali, and several books he has written himself: Butterflies in My Stomach, You Are What You Eat, and Reach for the Stars. He divides his time between New York and Paris.
Praise For I Dare You Not to Yawn…
This is a charming bedtime story done in ink with digital colorization. The layout is very simple and uncluttered. The book will be easy to present, either one on one or in a storytime setting. With its cartoon illustrations and subtle humor, it is a fun selection.
—School Library Journal

The funny, melodramatic prose is cleverly extended by Bloch's cartoonlike illustrations that emphasize the emotions of the little boy who is desperately trying not to yawn...Just the ticket for nap-time or bedtime sharing.
—Kirkus Reviews

The subversive narrator, who so clearly understands the indignity and outrage of bedtime, makes a wonderful ally, and Bloch's visual jests make this a book that promises to elicit not yawns, but guffaws.
—Publishers Weekly

Boudreau and Bloch work seamlessly here to deliver the funny...Bloch's signature ink-and-digitally colored illustrations pop on white backgrounds on some pages, while others involve patterned backgrounds and dramatic full-page, mouth- open-wide shots. With lots of yawning sound effects, share this read-aloud at bedtime.
—Booklist

Bloch's lively illustrations, hand-drawn in ink and colored digitally, have the humorous, cartoonish verve of Jules Feiffer, and the ginger-haired, big-headed young narrator is amusing in his futile attempts to suppress the traitorous yawns. ... This would make a surprisingly effective introduction to a primary-grade science lesson on yawning or a good bedtime book for encouraging somnolence (if parents can get through it without succumbing to slumber themselves).
—Bulletin of the Center for Children's Books

Boudreau's pacing is impeccable; Bloch's stylish digitally colored ink illustrations amplify the text's humor while helping to telegraph its thinly disguised subliminal message. ... Stop haranguing noncompliant children at bedtime; I Dare You Not to Yawn will put them right where you want them…though be prepared to fall under its spell, too. Resistance is futile.
—The Horn Book