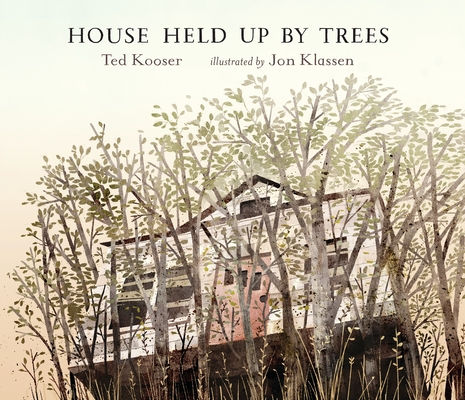 House Held Up by Trees
Hardcover

* Individual store prices may vary.
Description
From Pulitzer Prize-winning poet Ted Kooser and rising talent Jon Klassen comes a poignant tale of loss, change, and nature's quiet triumph.

When the house was new, not a single tree remained on its perfect lawn to give shade from the sun. The children in the house trailed the scent of wild trees to neighboring lots, where thick bushes offered up secret places to play. When the children grew up and moved away, their father, alone in the house, continued his battle against blowing seeds, plucking out sprouting trees. Until one day the father, too, moved away, and as the empty house began its decline, the trees began their approach. At once wistful and exhilarating, this lovely, lyrical story evokes the inexorable passage of time — and the awe-inspiring power of nature to lift us up.
Praise For House Held Up by Trees…
The former poet laureate Ted Kooser's HOUSE HELD UP BY TREES is a lyric, poetic story, stark but also imbued with a haunting beauty…Jon Klassen's illustrations are quiet, delicate and nuanced, amplifying the text in fresh, original ways through the use of unexpected angles and perspective.
—The New York Times

Though there's a family involved, the real star of this multilayered modern parable is a plot of land...the artwork initially functions as stoic background for the story, with wide-angle perspectives filled with plenty of open space and muted colors. But in the second part, as the trees take over, Klassen's compositions command more and more attention, elbowing the text into the periphery and subtly reinforcing the themes in play... Unfolding with uncommon grace, the environmental heart of this story is revealed obliquely but powerfully.
—Booklist (starred review)

Poignant and lovely.
—Kirkus Reviews

This bittersweet tale is rife with tension, between young and old, order and chaos, yesterday and tomorrow. Poet Kooser's soft, plain narrative matches that tension, at once frank and nostalgic. Klassen's somber, dappled watercolors add to it, juxtaposing the house's rectilinear form against nature's organic shapes... This quiet elegy to the passage of time offers some simple and profound musings to contemplative young readers curious about the future and their role in it.
—The Horn Book

A lyrical, melancholy prose text by former U.S. poet laureate Kooser is paired with ethereal illustrations to tell the story of a house and the family who once lived there.
—School Library Journal

Poet Laureate emeritus Kooser writes with quiet particularity, and his descriptive prose is filled with the rustle of wind through the trees. Klassen's art is simply beautiful, the leafy trees making a lacy pattern against the walls of the house, strong verticals of trees delicately textured by slender grasses and pale dotty imprints of leaflets...
—Bulletin of the Center for Children's Books

Readers will contend with the power of the natural world in this lyrical picture book, in which trees take over an abandoned house.
—Instructor

With ethereal, haunting illustrations by Jon Klassen, this memorable biography of a house will appeal to both young readers and adults.
—The Seattle Times

It is the kind of book that can be read again and again as it will inspire new conversation and discussion with each reading.
—7online.com (WABC-TV)
Candlewick, 9780763651077, 32pp.
Publication Date: March 27, 2012
About the Author
Ted Kooser, the United States Poet Laureate from 2004 to 2006, was awarded a Pulitzer Prize for his book of poems Delights & Shadows. He is the author of twelve full-length volumes of poetry and several books of nonfiction, and his work has appeared in many periodicals. Bag in the Wind, illustrated by Barry Root, was his first picture book. Ted Kooser lives in Garland, Nebraska.

Jon Klassen is the author-illustrator of I Want My Hat Back. The first picture book he illustrated, Cats' Night Outby Caroline Stutson, won the Governor General's Award for illustration in his native Canada. Jon Klassen now lives in Los Angeles.