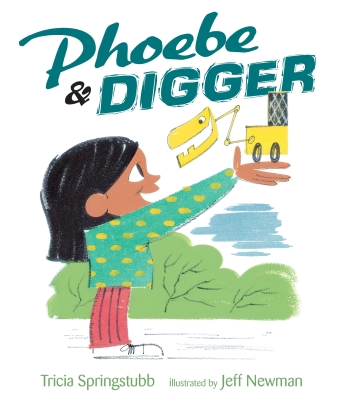 Phoebe and Digger
Hardcover

* Individual store prices may vary.
Other Editions of This Title:
Paperback (8/2/2016)
Description
With a new baby taking up Mama's time and attention, what will happen when Phoebe needs her?

When Mama got a new baby, Phoebe got a new digger. And when Mama is busy with the baby, Phoebe and Digger are busy, too: "Waa!" says the baby. "Rmm!" says Digger. Poop! goes the baby. "Rmm!" says Digger. Finally, Mama says it's time to go to the park, the one with real dirt — and while Mama and the baby sit on the boring bench, Phoebe and Digger happily build and knock down and dig things up. That is, until a big girl comes by, a kid with mean teeth and grabby hands. Phoebe tries everything she can, but what if she never gets Digger back? Comical illustrations and a spot-on story are sure to make readers of all ages smile in recognition.
Praise For Phoebe and Digger…
Newman's expressive drawings, done in a loose and economical style, serve the story well. His artwork, from the way he considers perspective, to the interesting and affective portrayals of the characters, allow readers (and parents!) to identify with this fiesty, yet sensitive, heroine...Nuanced and humorous, this is a worthy addition to the new-sibling shelf.
—Kirkus Reviews

This story is part sibling rivalry and part bullying but it also features an interesting girl who chooses to play with earthmovers over dolls. The large bold paintings are perfect for storytime and are well used throughout to show mood and scale.
—School Library Journal

Readers will cheer for sloe-eyed Phoebe as she veers from mischievous grin to slow burn and back again, just as they will covet Digger, the most expressive steam shovel since Mike Mulligan's Mary Anne.
—Publishers Weekly

Springstubb's text is generously sprinkled with playful rhythms and dry, comradely drollery. Newman's mixed-media art combines brisk horizontality with a sturdy retro flair in his figures and palette. He picks up the comic tone of the text and runs with it...Girls will appreciate a book that acknowledges their enjoyment of heavy machinery, and kids in general will warm to the joy of sublimating their frustration via measured destruction.
—Bulletin of the Center for Children's Books

Mixed-media illustrations in subdued hues, with sketchlike black lines and lots of white space, enhance the straightforward text while playing up the tale's small moments and its big emotions. The story is notable for its sympathetic depictions of a rambunctious girl(!) truck lover (who is both the victim and perpetrator of teasing), her harried mother, and the not-always-adorable little baby; its relatable-to-new-big-siblings situations; and the nonsaccharine ending (bully-girl hasn't learned her lesson, but Digger is on the case).
—The Horn Book

A breath of fresh air in the new sibling picture-book canon.
—Julie Danielson - Kirkus
Candlewick, 9780763652814, 32pp.
Publication Date: March 26, 2013
About the Author
Tricia Springstubb is the author of What Happened on Fox Street and Two Plus One Make Trouble, as well as several other children's books. A former children's librarian, she lives in Cleveland Heights, Ohio.

Jeff Newman grew up in Ashland, Massachusetts, and attended the Art Institute of Boston. He currently lives in Milwaukee, Wisconsin.