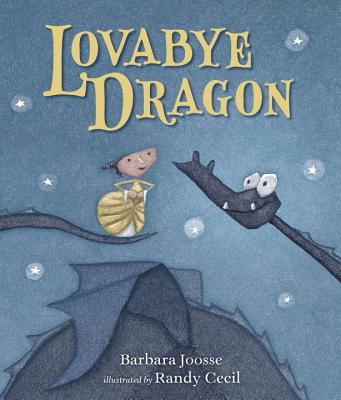 Lovabye Dragon (The Girl and Dragon Books)
Hardcover

* Individual store prices may vary.
Description
In her bed in her room in her castle, a girl longs for a dragon.
In his nest in his cave in his mountain, a dragon dreams of a girl.

When a lonely dragon follows a trail of princess tears, a beautiful friendship is born. They march and sing, roar and whisper, hide and seek, then settle into snug companionship at bedtime. Barbara Joosse's fiercely protective and gently loving dragon cavorts across the pages, endearingly illustrated by Randy Cecil. At the end of the day, who can resist curling up in the embrace of a lovabye dragon?
Praise For Lovabye Dragon (The Girl and Dragon Books)…
[An] ever-so-sweet picture book... Joosse's poetic, lyrical text is chock full of beautifully cadenced rhyme and repetition, including wonderfully inventive rhymes. . . Cecil's softly textured illustrations have charm in spades, and the bug-eyed dragon himself takes the term loveable to a new dimension. Children will likely ask for this one over and over at bedtime, and may fall asleep wishing they, too, could be snuggled in the curl of a dragon's tail.
—Booklist (starred review)

Is Joosse paying homage to a classic mid-century children's author, or just channeling her? Either way, this beautifully bubbly poem sounds a lot like Margaret Wise Brown at her best. . . There are moments of saucy wordplay and reassuring images of steadfast love. Cecil's stylized, angular figures stand in visual contrast to Joosse's rounded prose-poetry, but the palette of muted grays and blues is just right for this lullaby of a book.
—Publishers Weekly (starred review)

With lovely lilting words, Joosse creates a friendship born out of loneliness and tears between a young princess who longs for a dragon and a friendly dragon who dreams of a girl for a friend. . . .A love fest of happiness and togetherness . . . A strong and hopeful tale.
—Kirkus Reviews

A dreamy nighttime palette of gray-blue and -green oils suits the lullaby mood of a bedtime charmer that should be equally at home with a rambunctious morning group.
—The Horn Book

The fairy-tale setting, lilting repetitive verses, and whimsical characters are wonderfully done. Oil paintings, using a blue, gray, and gold palette, suggest that a toy dragon and three shiny soldiers with swords drawn have come to life, giving an added dimension to the text. This satisfying tale of two forever friends is both a comforting bedtime story and affirmation that sometimes dreams do come true.
—School Library Journal

Joosse is a skilled versifier for the picture-book set, and her creative poetic form is tightly crafted for bouncy reading aloud. The plot is minimal, but the emotions are strong and the celebration of girl-dragon friendship is immense and joyous. Cecil's signature style, delicate, measured brushstrokes in oil, render the scenes soft and smoky and the figures touchable, a texture that gives surprising depths to the exaggerated, cartoonily drafted figures of girl and dragon.
—Bulletin of the Center for Children's Books

The book is bathed like a romance in moody lavenders and deep grayish blues, and its bug-eyed dragon is more adorable than fearsome. Randy Cecil knows how to make even scaly creatures look winsome, and if his oddly coiffed princess is a bit on the homely side, well, that's kind of a nice change of pace too.
—New York Times online

Barbara Joosse's LOVABYE DRAGON has a more subdued feel, with softly musical verse and Randy Cecil's soft, grayish illustrations. The dragon here, too, is less a monster than a big cuddly pal. A yearning princess weeps "many, many tears / so wishing for a dragon / so lonely for a dragon / and they trickled down the stairs" and out the castle door. The rivulet travels into the cave of an equally lonely "snore-asleep" dragon. Woken by a splash of tears, the reptile follows the trickle back to its origin. Great joy ensues.
—The Wall Street Journal
Candlewick, 9780763654085, 32pp.
Publication Date: September 11, 2012
About the Author
Barbara Joosse has written many books for children. Among them are Mama, Do You Love Me?, illustrated by Barbara Lavallee; and I Love You the Purplest, illustrated by Mary Whyte. She says, "When I was a little girl, I wished for two things — a best friend, and something so ferocious it would scare away the monsters under my bed. And so I have written Lovabye Dragon. I think maybe it's for little me." Barbara Josse lives in Wisconsin.

Randy Cecil has illustrated more than twenty books for children, including Brontorina by James Howe, And Here's to You! by David Elliott, and My Father, the Dog and How Do You Wokka-Wokka?, both by Elizabeth Bluemle. He is also the author-illustrator of Duck and Gator. Randy Cecil lives in Houston.