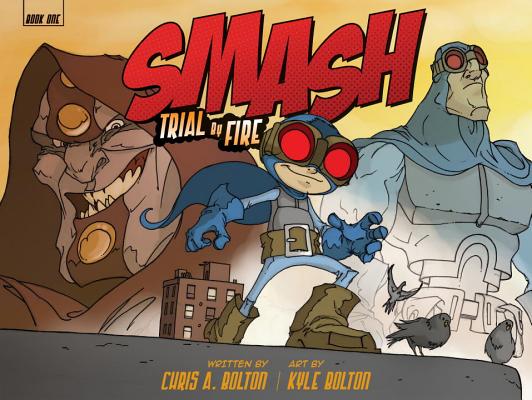 SMASH (Hardcover)
Trial by Fire
Candlewick, 9780763655969, 160pp.
Publication Date: September 10, 2013
* Individual store prices may vary.
Description
Whap! Thud! Crash! An action-packed graphic novel simultaneously spoofs and pays tribute to superhero lore while inspiring a new generation of crimefighters.

Ka-boom! Clobbered by fallout from a blast that kills the local superhero, Defender, Andrew Ryan suddenly has super strength and speed! And he can fly! Now it's up to him to protect citizens from thieves, thugs, and fearsome villains. He dons a homemade costume to hide his true identity, and Smash is born! But fighting crime isn't easy, especially when you're in fifth grade. On top of evil robots and trigger-happy bank robbers, there's homework, curfew, and the school bully to deal with. Not to mention the Magus, a fearsome villain who will stop at nothing to steal Smash's superpowers for himself! Influenced by film, cartoons, and of course, classic comic books, this vivid escapade features a rib-tickling, high-energy storyline and the colorful, exaggerated figures of nostalgic comic-book art: a combo perfect for kids longing for a secret identity of their own.
About the Author
Chris A. Bolton has written comics, short fiction, stage plays, sketch comedy, and screenplays. He wrote and directed several short films and an acclaimed web series and recently completed his first novel. He lives in Portland, Oregon, where he still dreams of acquiring superpowers.

Kyle Bolton has been drawing since the age of four, although SMASH is his first professional comic work. A graduate of the Art Institute of Seattle, he has worked for a variety of game companies creating 2D and 3D animations. Kyle Bolton currently draws and lives in Seattle, Washington.
Praise For SMASH: Trial by Fire…
The Boltons provide easy-to-follow panels filled with action, wide eyes, banter ("Not another step or it's bye-bye puberty!"), and comically exaggerated differences between the puny (looking!) caped crusader and his much buffer adversaries. ... Three cheers for the underdog.
—Kirkus Reviews

The character is full of pluck that is true to a ten-year-old's spirit while keeping older readers entertained. Readers will cheer for him as he goes through his days. The illustrations are well-drawn in traditional superhero comic book style. ... This title is perfect for elementary and middle school boys, especially reluctant readers.
—Library Media Connection (highly recommended)

SMASH pays homage to the genre while adding tweaks that make it all feel fresh. This is sure to be a draw for superhero fans and reluctant readers alike.
—School Library Journal

Kyle Bolton's cartoonish art recalls Frank Cammuso's (The Misadventures of Salem Hyde, 2013), but it has a refreshingly everyday color palette. There is violence (it's a superhero story, after all), but it is appropriate for the intended audience, and the ending leaves plenty of stories to tell in subsequent volumes.
—Booklist

Full of drama, humor, and seriously thrilling action sequences. To summarize: kids are going to love it.
—100 Scope Notes (SLJ Blog)