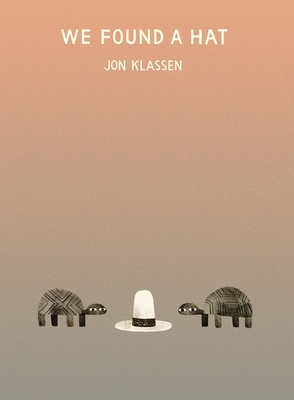 We Found a Hat
Hardcover

* Individual store prices may vary.
Description
Hold on to your hats for the conclusion of the celebrated hat trilogy by Caldecott Medalist Jon Klassen, who gives his deadpan finale a surprising twist.

Two turtles have found a hat. The hat looks good on both of them. But there are two turtles. And there is only one hat. . . . Evoking hilarity and sympathy, the shifting eyes tell the tale in this brilliantly paced story in three parts, highlighting Jon Klassen's visual comedy and deceptive simplicity. The delicious buildup takes an unexpected turn that is sure to please loyal fans and newcomers alike.
Praise For We Found a Hat…
Jon Klassen's typical minimalism reaches a new level of refinement in "We Found a Hat" — in my opinion the best and most stirring in his hat trilogy...Klassen, who speaks the language of the picture book like few other authors and illustrators these days, has created a masterpiece of honest feelings, emotional tension and poetic restraint.
—The New York Times Book Review

In this concluding volume of a thematic trilogy, Klassen employs all his trademark dry wit and deadpan humor to tell the story of a hat-related caper...The three- part narrative has a distinctly Western feel, complete with a desert setting drawn in dusty pink and brown tones—and then, of course, there's the sense of impending betrayal. The conclusion might surprise even those familiar with Klassen's twist endings, and the growing tensions, simple narrative, and intriguing details will endear this to many.
—Booklist (starred review)

The conclusion to the "Hat" trilogy offers the sly humor fans have come to expect along with a surprisingly tender ending...In a charming turn, the conflict is resolved through empathy and the bonds of friendship—Klassen's animals have clearly evolved in their thinking since the bear in I Want My Hat Back and the fish in This Is Not My Hat. The lightest touch of the surreal adds to the dreamy melancholy of this tale. A different but wholly delightful and thought-provoking capper to Klassen's ingenious series.
—School Library Journal (starred review)

Klassen considers the instant at which a decision to act can break either way, depending on who's tempted and whether anyone else is watching. In contrast to the first two books, which relied on a certain conspiratorial menace, this one ends with a moment of grace and a sky full of stars. All three stories are about justice. It's just that justice doesn't always mean the same thing.
—Publishers Weekly (starred review)

The tenderness in this book (with its uplifting ending) is just as surprising as the black humor in the earlier ones. While the book is richer in the context of the two pre- vious volumes, Klassen leaves enough space for uninitiated readers to make their own meaning out of this story about a hat—but, here, also about an enduring and precious friendship.
—Horn Book (starred review)

Rare indeed is the author/illustrator who can create an artistic literary sequence about hat ownership; so rare, in fact, that Jon Klassen may be the only one...Kids may have their own suggestions for how the turtley twosome could have dealt with the hat problem, and while this doesn't have the dramatic dénouement of This Is Not My Hat, audiences will warm to its wit and sweetness.
—Bulletin of the Center for Children's Books (starred review)

Readers may be surprised when the spare, visually witty story ends in dreamland, where both tortoises are floating side by side in a star-sprinkled black sky... both wearing tall white hats. Will this lovely vision survive the light of day? Ask Klassen.
—Shelf Awareness

The final act, in which one tortoise descends the rock toward the hat and the other, though supposedly sleeping, narrates a star-filled dream in which they both wear hats, challenges readers to construct their own endings. There are no belly laughs here, but patient children and Klassen's fans will be fully engaged. Beguiling.
—Kirkus Reviews

The turtles have the classic Klassen deadpan, their eyes sliding from side to side in a meaning way, and as time ticks on we fear that something bad is going to happen. And perhaps it almost does, but to our relief (or disappointment, depending), this third volume in a headgear trilogy ends with concord under a star-spangled sky.
—The Wall Street Journal

We Found a Hat and the trilogy as a whole provides an entertaining, easy to read story on one level but also grants plenty of space for more complex and lively discussion.
—New York Journal of Books

Klassen makes great use of the turtles' eye expressions, conveying the complicated emotions of friendship as well as subtle humor...This is a heartwarming, wonderful conclusion.
—BookPage

"We Found a Hat" is a moving story about loyalty, sacrifice, friendship, and the power of imagination.
—The Boston Globe

The most epic trilogy since Lord of the Rings comes to its heart-stopping conclusion...We Found a Hat is a surprisingly nuanced exploration of friendship, bargaining and millinery.
—Globe and Mail

It's a classic problem: two turtles, one hat. Well, maybe not classic, but you get the idea. In the just-released and last book of his Hat series, Jon Klassen's wit shines.
—Boing Boing

Klassen's hat trilogy (which includes "I Want My Hat Back" and "This Is Not My Hat") comes to a sweet end in this story about friendship — between turtles in the desert — and selfless-ness.
—The Boston Globe

A perfect ending to this fabulous trilogy. It was definitely worth the wait.
—A Year of Reading (blog)

Longing is conveyed with expressive eyes, the monotone palette, a wonder of understatement and the spare text, a measured guide to dilemma and dreams. In the end, the turtles go with restraint over temptation in a vote for civility and friendship.
—San Francisco Chronicle

The wondrous, funny, wise and lovely "We Found a Hat" is the last in a trilogy of picture books starring animals and hats from gifted author-illustrator Jon Klassen.
—Buffalo News

There is more to this book than meets the eye, and plenty to discuss around the Caldecott table.
—Calling Caldecott (blog)

Klassen brings dry, deadpan humor to this desert setting complete with cactus, a big sunset and starry skies. It's the best of the Hat books.
—MySanAntonio.com

Those who have read and loved the previous two books in the hat series might assume they know how this one will end, but Klassen proves once again he can still surprise with a finale—even if this one is coming a turtle's pace away.
—Globe and Mail
Candlewick, 9780763656003, 56pp.
Publication Date: October 11, 2016
About the Author
Jon Klassen is the author-illustrator of I Want My Hat Back, a Theodor Seuss Geisel Honor Book, and This Is Not My Hat, winner of the Caldecott Medal. He is the illustrator of two Caldecott Honor books, including Sam and Dave Dig a Hole and Extra Yarn, both written by Mac Barnett, as well as House Held Up by Trees, written by Ted Kooser. Originally from Niagara Falls, Ontario, Jon Klassen now lives in Los Angeles.