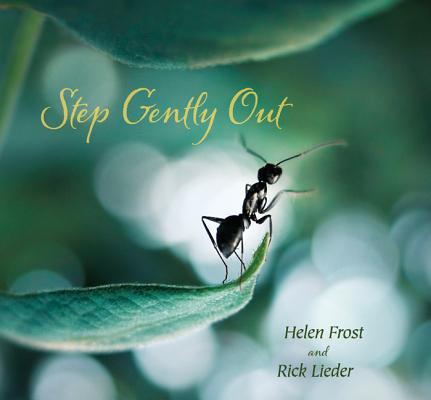 Step Gently Out
Hardcover

* Individual store prices may vary.
Description
Stunning close-up photography and a lyrical text implore children to look more closely at the world around them.

Be still, and watch a single blade of grass.
An ant climbs up to look around.
A honeybee flies past.

What would happen if you walked very, very quietly and looked ever so carefully at the natural world outside? You might see a cricket leap, a moth spread her wings, or a spider step across a silken web. In simple, evocative language, Helen Frost offers a hint at the many tiny creatures around us. And in astonishing close-up photographs, Rick Lieder captures the glint of a katydid's eye, the glow of a firefly, and many more living wonders just awaiting discovery. Fascinating facts about all the creatures pictured may be found at the end.
Back matter includes descriptions of the insects and spiders in the book.
Praise For Step Gently Out…
Breathtaking photos and an exquisite poem capture a bug's-eye view of nature... While Frost's lightly rhymed declarative verse encourages children to experience the natural world with care and openness to the tiny wonders of insect life around them, Lieder's richly colored intimate close ups offer every reason why... A dazzlingly poetic photo album of the insect world for tots on up.
—Kirkus Reviews (starred review)

Captivating photography gives readers a closeup view of the world of insects, as described by a gently contemplative poem... The words and images achieve a Zenlike calm that also hints at the complicated web of life unfolding all around.
—Publishers Weekly (starred review)

Nature's miracles are often small and hard to capture, but in a syncopated harmony of text and image, Frost and Lieder manage to depict tiny moments as seen through a bugs-eye-view of the world... Moving from day to night, the poem makes for a soothing bedtime lullaby that includes a reminder to children about the book's small creatures: "In song and dance / and stillness, / they share the world / with you."
—Booklist (starred review)

The felicitous pairing of poetry and pictures is enjoyable and useful.
—School Library Journal

If you like bugs, you'll love looking at these amazing images.
—GeekDad (a Wired blog)

STEP GENTLY OUT not only fosters a love of poetry but also of the creatures it describes. It shows passage of time and the behavior of some of our most populous occupants of the planet... It is one of those rare picture books where the text, art, and design merge seamlessly together to create a spectacular book.
—Anita Silvey's Children's Book-A-Day Almanac

Extraordinary close-up photographs of bees, ants, crickets and more, ensuring that we'll never look at these tiny creatures the same way again.
—Huffington Post Parents

Stunning photography and evocative language encourage children — and their grown-ups — to pause for just a moment to notice the natural world.
—The Plain Dealer

You'd be a fool to overlook this book for any reason whatsoever...Steeped in lovely, through and through.
—Fuse #8 Production blog
Candlewick, 9780763656010, 32pp.
Publication Date: March 13, 2012
About the Author
Helen Frost is the author of Monarch and Milkweed as well as six novels-in-poems for children and young adults. She lives in Fort Wayne, Indiana.

Rick Lieder is a nature photographer, artist, and book-jacket designer. He lives in Michigan.
or
Not Currently Available for Direct Purchase