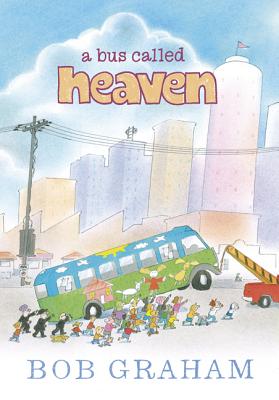 A Bus Called Heaven (Hardcover)
Candlewick Press (MA), 9780763658939, 40pp.
Publication Date: March 13, 2012
Description
Could a broken-down bus really bring a whole city neighborhood together? Could it all start with a small girl named Stella? One morning in front of Stella's house, an abandoned bus appears, looking sad as a whale on a beach. On its front, held up with packing tape, is a hand-painted sign that says Heaven. Right away, the bus brings change to Stella's street when people stop to talk about it instead of rushing by. And as Stella looks past all the empty bottles and cans inside, as she sees the sparrows nesting in the engine, she changes, too. "This bus could be ours," she declares. With a master's eye for finding the magic in the mundane, Bob Graham creates an encouraging story about community -- a whimsical tale about neighbors of all ages and stripes coming together, and about one little girl who comes into her own.
About the Author
Bob Graham is the author-illustrator of many award-winning books for children, including How to Heal a Broken Wing and April and Esme, Tooth Fairies. He lives in Australia. "I left those people on the last page of Heaven knowing that there is still rust under that new paint job, but if the developers stay away from the vacant lot, the bus has surely reached a happy destination. There is a kettle inside, a row of mugs on cup hooks, and quite often a cake from Mrs. Stavros. Hopefully for years to come it will be a happy refuge for people, baby birds, and snails." -- Bob Graham
Praise For A Bus Called Heaven…
It is the lovely communality of the story—an ever-presence that is elegantly, softly presented—that will grab young readers, simply because the school bus is just so cool. It's got birds nesting in the engine block, a Foosball table, music, all sorts of things going on and the usual joyful noise of people up to whatever it is they enjoy being up to. Aiding the mood of merriment are Graham's illustrations, with their sinewy black line work, delicate, peaches-and-cream colors and loving depiction of all kinds of people. The destination sign on the bus reads "Heaven," and just so, a little piece here on Earth.
—Kirkus Reviews (starred review)

In a story where every turn is possible, if improbable, Graham makes readers believe. High hopes and busy, vibrant artwork that mixes metaphor with true grit will entice children—and parents—into further rereadings.
—Booklist (starred review)
Advertisement